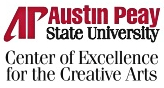 The inaugural Austin Peay State University Summer Guitar Workshop wraps up with a Gala concert at 7:30pm. Friday, July 2nd, in the campus' Music/Mass Communication Building. General admission is $10.00, and $5.00 for students and military personnel.
The evening will begin with the announcement of youth competition winners and an awards ceremony hosted by Provost Tristan Denley and his wife, Kim Denley, followed by a performance by competition winners and the workshop's esteemed artist-faculty.
The faculty at this year's workshop, which will be an annual event on the APSU campus, includes such guitar luminaries as Tim and Miles Thompson, Richard Smith, Mir Ali, Stephen Aron and Dr. Stanley Yates.
The Thompsons are Nashville fingerstyle virtuosos and songwriters. Tim was the winner of the 2008 International Fingerstyle Championship at the renowned Walnut Valley Festival.
Smith was the winner of the 30th National Fingerstyle Championship. The British-born guitarist was a child prodigy who had already performed with the "Godfather" of the fingerstyle guitar, Chet Atkins, at the ripe old age of 11. He has toured the world, surprising audiences everywhere with a repertoire spanning an incredible range of musical styles from country, bluegrass, mainstream jazz, modern pop and rock, to classical guitar.
Ali was described by Acoustic Guitar Magazine as "an exceptional nylon string guitarist" and by NPR as "mesmerizing and hypnotic." The Pakistani-born guitar virtuoso won his first guitar competition at the age of 13 and has been raising the eyebrows of audiences and music critics around the world ever since.
Aron is Chairman of Guitar Studies at the University of Akron and founder of the classical guitar program at the Oberlin Conservatory of Music. Described by the New York Times as "cultivated and musical," he has been a prominent force on the American guitar scene for more than 20 years.
British guitarist Yates directs the guitar program at APSU and enjoys an international career as a performer, recording artist, teacher, arranger and scholar. A past prize-winner in such prestigious performance competitions as the Guitar Foundation of America and the Myra Hess (London), he continues to perform as recitalist and concerto soloist throughout the United States and Europe.
For more information on the Gala concert, contact the APSU Center of Excellence for the Creative Arts at 931-221-7876.