Advanced Placement students in the Clarksville-Montgomery County School System are being motivated and rewarded for their academic achievements by Premier Medical Group, which donated $9,000 in laptops and flash drives for an upcoming recognition event.
All students who scored a 3, 4 or 5 on their Advanced Placement exams are eligible to receive a flash drive from Premier and 12 students will be the lucky recipients of new laptop computers.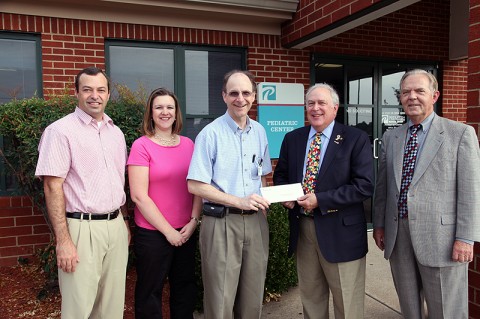 "We want to thank Premier for their continued support of our school system. Education partners like Premier enable us to do many things we otherwise could not accomplish for students," said School Board Chairman Jim Mann, who was joined in receiving the check by Education Foundation Vice President Jimmy Dunn.
"in addition to the superb medical care they give this community's children, these physicians also want to invest in healthy and bright minds. We are very grateful for their support," added Dunn.
Pediatric physicians Dr. Bill Moore, Dr. Stephanie Schultz and Dr. Paul Darke presented the check Friday morning at Premier Medical Group's Richview clinic.
The laptop and flash drive giveaway will coincide with the Joe Heitz Pass and Go event on Saturday, Aug. 14th.