I had made a list of the authors I thought I wanted to hear at the Sixth Annual Clarksville Writers' Conference and William Gay wasn't on it. To tell the truth the description of his work was a bit scary. Words like "elements of the grotesque and perverse, its psychological extremes and its fixations on violence and sex" were in his biography.
I arrived at the door where I thought I was going to hear David Poissant and was told that William Gay and he had swapped places. I learned later that William doesn't drive so someone had had to go to Hohenwald to pick him up.
This switch in the schedule was like the road less traveled that Robert Frost had written so eloquently about; it truly made all the difference for me.
Barry Kitterman, coordinator of the creative writing program and professor in the Department of Language and Literature at Austin Peay State University, introduced William Gay by talking about the entry for Hohenwald in Wikipedia. Hohenwald is listed as being famous (among other things like the Elephant Sanctuary) for being the burial spot of Meriwether Lewis of the Lewis and Clark Expedition, for being the home of Rod Brasfield, a Grand Ole Opry comedy star; for being the birthplace of professional ballplayer Deason "Decon" Loveless; and for being the home of William Gay—and it lists his books, The Long Home, Provinces of Night, I Hate to See That Evening Sun Go Down, and Twilight.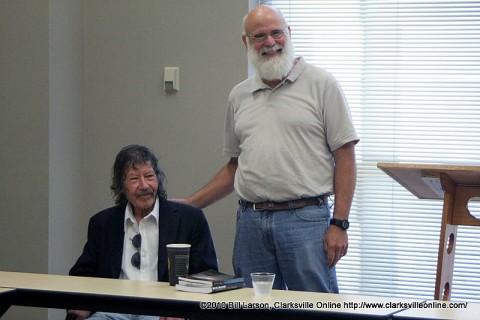 Barry said that William's writing had been described as having "rich language, characters who are messed up, and language you will want to make your own."
(In the hallway I had heard young women asking if his Twilight was the vampire book and the answer is definitely "NO!")
William entered carrying a cup of coffee and being his usual quiet self. He started out telling us about being asked to write about the sorriest job he had ever had. He said there was some stiff competition for that title but he had finally decided on working in the boat paddle factory.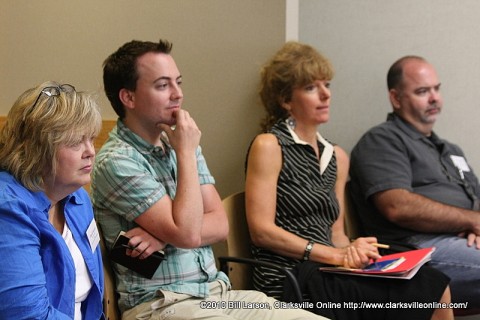 The passage he read was a description of being fired from a shoe construction factory where "toadies were lording over people like me trying to pay a grocery bill" to moving on to the boat paddle factory where he became drunk on every shift from smelling the fumes of the lacquer in which the paddles were dipped by the machine he controlled.
When he asked for a mask to wear, the foreman said, "We have no budget for extras. You are not being charged for these drugs." William said that because he was trying to be a writer and there was a lot of feeling in the country about that time that drugs like LSD would expand your mind, he thought maybe his was being expanded and this was a gift the world was bestowing on him. "But none of this happened," he said. "My mind sat in the basement and pulled the door shut."
One night he got so dizzy, he dropped some paddles into the lacquer. His brother-in-law Curtis (who had been instrumental in his getting the job in the first place) was put on the machine while William went outside to get some fresh air. William said that it had started to snow just a bit and while his mind was clearing, he realized that his brain was becoming the size of a walnut and he might be getting cancer, senility or sterility.
When Curtis came out, he said that he felt like he had fallen into a whiskey bottle and had to drink his way out. Curtis drove them out of the factory lot but crashed his beloved 1959 Chevrolet and "busted the radiator." It was snowing harder by then and they were 50 miles from home, but William decided to walk anyway. Curtis wouldn't leave his car "because someone will steal my tapes" so he stayed behind. William told him if he met someone on the road, he'd send them to help Curtis with the car.
William told Curtis, "I won't be back." He decided, "I'll find some way to make a living and write at night. I might go to Hollywood and become a sweat expert. Have you ever noticed how in the movies the sweat never looks right? I could advise people.
"I had no way of knowing what I'd do," he wrote. "I went on into the night. I hoped nobody starved to death."
William Gay charmed all of us in his audience with his straightforward language and story-telling that drew you into the scene with seamless language chosen word for word to paint a picture you wanted to see.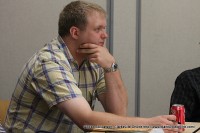 He said it was 25 years after that experience of walking away from the boat paddle factory to sell his writing. He worked on construction and wrote at night. He hung dry wall and worked as a stone mason. He moved to Selmer, Tennessee because he thought he might want to write about legendary sheriff Buford Pusser but after Walking Tall, the movie about him, was a success, William's agent told him to give up the idea because the story had been told.
William said he started writing when he was about 13 because he had a teacher who noticed he read a lot. The man gave William a copy of Look Homeward, Angel by Thomas Wolfe because William had been reading mysteries by Earl Stanley Gardner and westerns by Zane Grey. The teacher told William, "You are reading widely but not deeply."
"Look Homeward, Angel blew me away," William admitted. He was affected deeply by the language. The teacher then gave him William Faulkner's As I Lay Dying. By then, William, the son of a poor sharecropper, was hooked on great literature.
(Ironically, William Gay has been called Tennessee's Faulkner. He said, "I don't care about that" in a response later to a question.)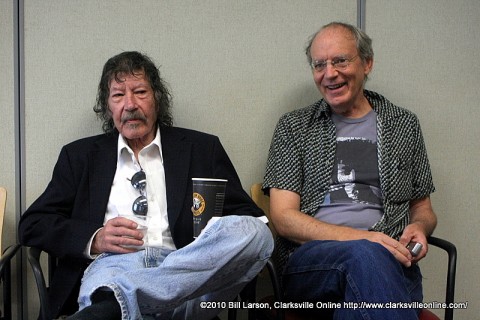 "Because of that teacher, I started thinking it would be even more fun to make stuff up. No one in my family was ever remotely like that," William recalls. "My father was always supportive but never figured out why I wanted to write. He had been able to go only to the third grade before he quit to work on the farm in Alabama. I'd catch him looking at me sometimes when he didn't know I was aware that he was doing it."
Someone asked William about whether he told people on the construction crews about his writing. He said, "If you work with guys who watch football and deer hunt on the weekends, you don't go in on Monday and talk about the sonnet you wrote the night before. I kept my mouth shut."
William writes at night most of the time because he became used to that when his four children were small. He said that after they were all in bed and the television was turned off, it would be quiet and he just got in the habit then.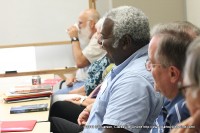 "Sometimes your write something you think is pretty good," he reminded his audience, "and you read it a month later. It's a piece of crap!"
The writing of William Gay could never be described as "crap" by any thinking reader. Here's just a random sample of his description in Provinces of Night:
"Spivey was standing on the porch silhouetted against a harsh cobalt sky, an electric sky in a failed painting."
For William, the story is also about the language. He tells the story of ordinary people confronting challenges wherever they are. If he creates fear or shows violence, it is for a reason, not for perverting the truth.
For me, the accidental experience of hearing William Gay talk about his life and his work was totally serendipitous. It was like getting to see a giant of literature in the flesh. Sometimes as I work as a teacher, I feel that my efforts are so minuscule and are of such little value. When I know that it was a teacher who gave the world the writings of William Gay, I have hope that perhaps I too may inspire someone to open their inner world upon the page.