Written by U.S. Army Spc. Jay Venturini 304th Public Affairs Detachment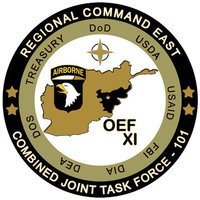 Bagram Airfield, Afghanistan – Many servicemembers throughout Afghanistan dream of the day when their unit will get on the plane to take them home. However, before they can get on that plane, there are a lot of things they have to do to ensure themselves and their cargo enters the United States properly.
For the personnel redeploying through Bagram Airfield, the last people they will see before getting on the plane will most likely be customs personnel from the 342nd Military Police Company, from Fort Devens, MA, who will inspect every item in every bag, from every person returning to the U.S.
"We know that most of the people coming through here are legit, and just want to get home, but it's because of the 1 percent that try to sneak things through is why we have to be so strict," said U.S. Army Capt. Brien C. Durkee, 342nd MP Co. commander and Boston native.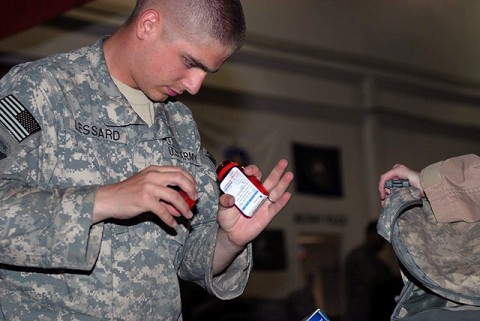 The customs personnel routinely inspect more than 150 people per day with many of them with three or more bags. Despite the large number of personnel and baggage, the inspectors remain vigilant as they understand they play a vital role in preventing potentially hazardous material from entering the U.S., Durkee continued.
"We are the last line of defense for the U.S.," said U.S. Army Spc. David Barrette, 342nd MP Co. customs agent and Worcester, MA, native. "If you try to take prohibited items back home we will find it."
The process starts with a detailed amnesty brief to the departing unit of what is allowed to go and what's not. Next, the unit is given 10 minutes to go through their bags and put prohibited items into an amnesty box without any repercussions.
"We give everyone the opportunity to get rid of prohibited items before their bags are inspected. No harm, no foul," said U.S. Army Master Sgt. Michael F. Plante, 342nd MP Co. customs noncommissioned officer in charge, and Weare, MA, native.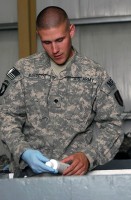 After the 10 minutes, each person is given a full body scan before the bags are thoroughly checked. Finally, to ensure the inspectors didn't miss anything, each bag then goes through an X-ray machine.
Some of the most common prohibited items found during inspections are unmarked pills, spring-loaded knives and more than one bootlegged DVD. However, more severe violations are also found such as live munitions and pornographic material.
"We see everything from live grenades to sex toys, and everything in between," explained Plante.
Once a prohibited item is found, some people will try to make any excuse to stay out of trouble.
"The excuses we hear range from the reasonable to the absolutely absurd," said Plante. "Most of the time the excuse is 'I didn't know it was there,' or 'I didn't know we couldn't have it.' Sometimes they will discretely say 'Can I just hand this over to you quietly.'"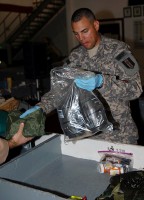 Another major factor when going through inspections is agriculture items. Because Afghanistan has a much different climate than the U.S., different wildlife and organisms inhabit the area and many would have a negative impact on U.S. agriculture. Because of this, absolutely  no fruit, animal dirt, plant life or wildlife from Afghanistan is authorized to enter the U.S, including dirt, plant life and wildlife.
If there is enough dirt to grab with your fingers than it can't go, explained Barrette.
The customs personnel will also often go to the departing unit's location to inspect the contents of their shipping containers.
With units redeploying on a fairly regular basis, it is vital for customs personnel to keep anything that would be detrimental to the United States out, and they take their job seriously.
"We understand what the outcome could be if we don't do our job properly," said Durkee. "That's why we are as detailed and thorough as possible and keep potentially harmful items out of the U.S."