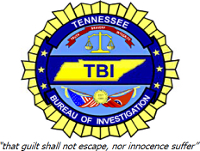 Nashville, TN — The Tennessee Bureau of Investigation today removed two of the state's Top Ten Most Wanted fugitives off the list after they were taken into custody by law enforcement who received tips from the public of the whereabouts of the wanted individuals.
John Eugene Cope
John Eugene Cope, 56, was captured by the Maury County Sheriff's Office after someone recognized him walking down a road.
That person alerted authorities and Cope was taken into custody this morning near 1750 Knob Creek Road.
Cope was wanted out of Hamilton County on three counts of aggravated sexual battery of a 4-year-old child.
Robert Brandon
The US Marshals captured Robert Brandon, 39, yesterday. TBI received a tip last week that placed the fugitive in Illinois. He was located working in a local manufacturing facility in Rantoul, IL.
Brandon was wanted on one county of aggravated assault and one count of especially aggravated burglary after being involved in a home invasion in Newbern, TN.
Both Cope and Brandon were added to TBI's Top Ten list in July 2010.