Written by U.S. Air Force 1st Lt. Katherine Roling, Ghazni Provincial Reconstruction Team Public Affairs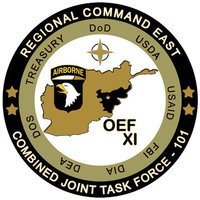 Ghazni Province, Afghanistan – When Abdul Karim couldn't find a doctor in Afghanistan to care for his 3-year-old daughter, he came to Forward Operating Base Ghazni here Aug. 11, where members from the Ghazni Provincial Reconstruction Team and the 655th Forward Surgical Team took little Samiya under their wing.
Samiya was diagnosed with large pericardial effusion, which is where fluid builds up around the heart and puts pressure on the organ, which can lead to a condition called cardiac tamponade that can stop the chambers of the heart from being able to fill and pump out blood.
The first day, U.S. providers performed a pericardiocentesis at FOB Ghazni to drain the fluid around her heart. The next day, August 12th, they followed up with a 20-minute procedure and drained more fluid after an ultrasound illustrated the dark collection of fluid that still squeezed her heart. Samiya's father and 11-year-old sister, Sadea, were there to provide the little girl comfort and a steady hand while medical personnel worked on her tiny frame.
"This probably came from an infection she got that irritated the heart, and that made the fluid buildup," said U.S. Army Lt. Col. Matthew Martin, the commander of the 655th FST and a trauma and general surgeon from Olympia, Wash.
"She had trouble breathing and she was coughing a lot, and her heart wasn't functioning as well as it should," Martin said.
When the fluid squeezes the heart, it has to work harder, and after a while the heart just stops, he said.
Karim, the father who supports his family of 10 as a taxi driver, resides in Returnee Village, which is just outside Ghazni City. It is a town formed by people who are displaced from various regions in Afghanistan and even Pakistan, usually for economic or security reasons.
His frustration began when the Ghazni Provincial Hospital misdiagnosed Sayima, saying she had a big heart, based on an x-ray diagram. The hospital lacked the personnel to do an ultrasound, and so he searched for a second opinion.
"She had a fever, she was anxious, she was crying a lot, and she was also coughing," Karim said, recalling his daughter's discomfort.
The second doctor that Karim met was at a private hospital; he properly diagnosed Sayima and sent her to Ataturk, a public hospital in Kabul.
Sayima stayed at Ataturk for 10 days on IV antibiotics and had a sputum study that ruled out tuberculosis. She was then discharged when the hospital said they could not do anything further to help.
The search for treatment continued at a French hospital in Kabul, but they required 100,000 Afghanis, equivalent to $2,190 USD, in advance. A doctor there saw Karim's dismay at the price he could not afford, and referred him to the Ghazni PRT.
The clinic, a PRT project that treats local Afghans, was where he met Dr. Masoud, a licensed Afghan doctor who currently works with the PRT.
Masoud called in U.S. Navy Lt. Cmdr. Zaradhe Yach, the PRT's senior medical officer from Santa Cruz, CA, and she got a chance to see the echocardiogram that illustrated the fluid around Sayima's heart.
"Dr. Masoud said that on (Karim's) taxi driver salary, working long days, he makes maybe 10 dollars a day," Yach said.
Yach went through a phone list of hospitals in Afghanistan that were known to take charity cases, but the lines were not working. Unable to reach anyone, she alerted the 655th FST on the base about Sayima's condition.
The loss of life, limb, or eyesight is the criteria for the FST to care for someone, whether they are coalition forces or local nationals.
"In this case, this little girl likely would have died if this intervention hadn't happened," Yach said.
She spoke with Martin, who agreed to take care of her that day. His crew and Yach drained the fluid after an ultrasound and an exam.
"It was impressive, in a shocking way, how her heart was even continuing to function," Yach said. "She was in early signs of heart failure, with fluid in her lungs and shortness of breath."
For now, Martin hopes to stop the condition by draining the fluid and administering medication.
"Ideally, this drain solves the problem and we're going to follow her over the next week or so, and then we'll take the drain out," Martin said. "We put her on some medication to hopefully stop her from building up more fluid.
"If the fluid builds back up on its own, then we'll need to do an operation to actually open up the sac around her heart and get all the fluid out," he said.
The father could not say thank you enough to the medical personnel.
"The only thing I can say is thanks a lot," Karim said. "It's a big relief for me."