Austin Peay State University's football team will scrimmage for the first time 9:00am, Monday, seeking answers in some critical areas.
"Monday is going to be an important evaluation period," Christophel said. "First thing is we need to make sure we have our guys in the right places. We have a lot of young kids and we have to make sure all of the young personnel are in the right places so we can get them enough reps to help them be prepared to play in the first game.
"We have two areas, the secondary for sure and the backups in the offensive line, where we are going to be counting on freshmen to play. I looked out there the other day and all four or five that I saw out there on the offensive line were true freshmen. I am excited about the fact they are good enough to be backups, but it also is scary they may have to play some."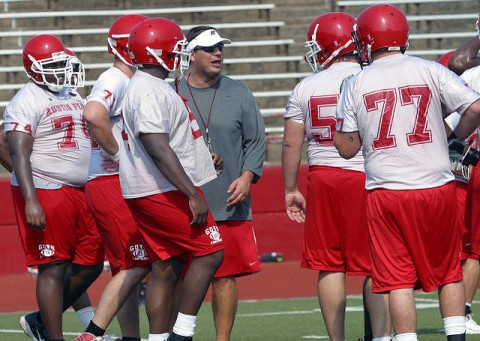 In addition, with senior Ben Collins out with a medical condition, redshirt freshman Preston Gilbreath and freshman Iosua Siliva, the America Samoa native, have been elevated on the depth chart at defensive end. Gilbreath, a former Tennessee Mr. Football Lineman at Mr. Pleasant High School, has been bothered by an ankle injury while Siliva strained his hamstring early last week. The latter should be ready to scrimmage some Monday.
At linebacker, sophomore Zac Burkhart, who gained experience at middle backer a year ago, takes over for Daniel Becker while senior Ricky Thomas replaces Kit Hartsfield at the other linebacker spot. Both Becker and Hartsfield were four-year starters.
"We've got guys who are competing for spots and playing time, especially in some critical areas," Christophel said. "We are looking forward to see where some these guys are."
Offensively, incumbent running backs Ryan White and Terrence Holt, both first-team All-Ohio Valley Conference choices a year ago, each will receive limited amount of carries as Christophel and staff will offer opportunities to some of their younger backs.
""We have three guys in Wes Kitts, Ean Pemberton and Patrick Haskins, who I am not saying can replace those other two guys, but I think they can do some good things with the football," Christophel said.
With walk-on Trox Greenwade recently leaving the program, the Govs are down to two quarterbacks in sophomore starter Jake Ryan and senior Trent Caffee. As a result, former quarterback T.C. Jennings, now a wide receiver, will take some snaps during the scrimmage.
The Governors endured their first two-a-day practice, Saturday, including contact work at night. However, the Govs staff backed off Sunday, limiting activity to just one no-pad kicking practice, Sunday afternoon.
Despite the intense heat, Christophel has been impressed with multiple aspects of his program.
"I think the team speed—I think we have improved our speed tremendously," he said. "You may not be able to tell it on Monday because their legs are going to be tired and sore.
"The other day I got upset with the way we finished the last 15 minutes of practice. Then I looked at the tape and it wasn't that bad. We had some young guys really doing some good things. What I realized was we have some young guys who are really pushing our older guys. Some of these older guys have realized they are having to step it up or some these younger guys are going to be playing ahead of them.
"That is going help make us a better football team."
The Govs have a second scrimmage scheduled for Saturday.