One percent improvement does not seem like a lot, but the Austin Peay State University volleyball team hopes compounding that one percent every day during the upcoming season will result in an opportunity for the team's first Ohio Valley Conference championship in 19 years.
The Lady Govs reached the end of two-a-days, Thursday, and finished the week with a Friday morning practice at the Dunn Center. They now begin a critical stretch of seven days leading up to the Lady Govs first regular-season competition, next Friday, at the Mississippi State Maroon Classic.
Before it begins that final stretch of practices, Austin Peay will first work through a busy Saturday schedule. The Lady Govs  began the day by participating in the "Run for the Fallen" at Fort Campbell's Waholi Pavilion. They returned to campus for media day activities, which began 12:45pm in the Dunn Center. The team then made its way to the Memorial Health Building (The Red Barn) for a 2:00pm practice that will concluded their day.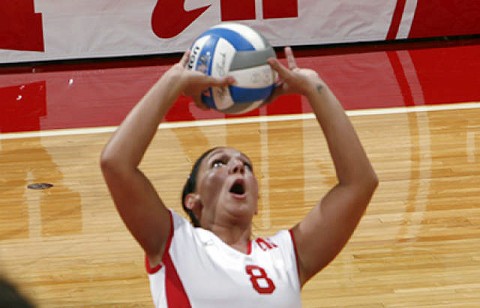 As is usually the case with most teams, the volleyball squad has spent the good portion of its preseason returning to fundamentals. First-year head coach Haley Janicek has been pleased with her team's progress in the early going but stresses there is plenty to be done before the team opens its season next week.
"I will say the one thing the team is doing well is consistently working hard," said Janicek. "They come in each day with the mindset they are going to get one percent better every day, every play – it's kind of been our motto this season. I am encouraged with their attitudes and work ethic. If they continue to grow then they are going to get a lot better."
Senior setter Sarah Alisaleh, a first-team All-OVC honoree last season and a preseason All-OVC selection this season, agrees with her coach's preseason assessment but is excited at the team's direction in preseason play.
"I believe preseason is going really well, I think it's one of the best one's we've had yet," said Alisaleh. "Everyone is picking up on the system very quickly; even the freshmen are acquiring our play of volleyball easily. It is really competitive, every spot is open and everyone is fighting for their spot."
Alisaleh is one of two returning players who received All-OVC recognition last season. Fellow senior Jessica Mollman, a middle blocker, was a second-team selection and returns to help anchor the Lady Govs blocking effort. That duo leads a group of eight returnees from last season's team, which will form the core of a squad picked to finish sixth in the OVC's preseason poll. However, Janicek believes that sixth place is the lower limit of what the Lady Govs can achieve this season.
"I believe, first and foremost, we have to get better in every aspect of the game," Janicek said. "Our passing certainly needs to get better and be more consistent, but that's true of every team in the country. I believe skill-wise we're growing at a pretty consistent rate for the preseason, but we need to get better at the skills that correlate to winning – passing and serving."
Joining the eight returnees will be five newcomers. Sophomore transfer Nikki Doyle will join the team after sitting a year due to NCAA transfer rules. She will be joined by four freshmen – middle blocker Lauren Henderson, outside hitter Calyn Hull, libero Taylor Slyder and libero Molly Silkowski. The freshmen, in particular, have had plenty to learn in the early going.
"The freshmen have done a good job of learning and understanding our system," said Janicek. "But we run a faster and more aggressive style of play than they're used to playing. A lot of their development will hinge on them getting more comfortable with the speed of our offense. It just takes a little bit of time to adjust to volleyball at this level."
Austin Peay opens its 2010 campaign with a contest against Montana, next Friday, followed by a matchup with host Mississippi State – helmed by former APSU head coach Jenny Hazelwood. The Lady Govs continue play at the MSU Maroon Classic the following day with contests against Arkansas-Little Rock and Texas A&M-Corpus Christi.