What's happening Downtown in Clarksville, TN is a regular feature that places the spotlight on one of our cities best features, the bustling downtown area. From the Roxy Regional Theatre, The Customs House Museum, The Downtown Artists Co-op, Strawberry Alley, the First Thursday Art Walks, to nearby Austin Peay State University; Downtown Clarksville is the cultural heart of our city. It's also a really great place to go to find unique shops, and some of the best restaurants in our community. Downtown business owner Paige King tells you just what's going on Downtown this week.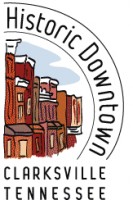 Anyone who knows me will attest to the fact that I am an avid advocate for Historic Downtown Clarksville. I rarely avoid an opportunity to tell folks how I feel about our city center and all it has to offer. Thus was born "Downtown, the Radio Show," heard weekdays on 1400 AM WJZM at 2:00 pm. I was then approached about a regular feature here, at Clarksville Online—so, here we go!
The Historic Downtown of Clarksville, Tennessee, has long been the center of activity for this amazing city. Flip through any of the numerous publications relating the story of Clarksville, and you will find images of bustling sidewalks and streets teaming with traffic. Centuries after its founding, the Downtown is a natural magnet for tourism and commerce. People find a connection there. Think about it . . . when you have folks come to visit from another area, do you take them to a strip mall, a chain restaurant and the movies? You should be bringing them downtown to visit the unique boutiques and restaurants, the Customs House Museum and The Roxy Regional Theatre. As you stroll the streets on the way to your next destination, you can tell your guests about the history of this great city.
I recommend picking up a pamphlet entitled "A walking tour of Clarksville." They are available at The Chamber of Commerce, the Visitors Center (near Exit 4) or the Customs House Museum—I also have a supply of them at Hodgepodge. This pamphlet has just enough information to make you knowledgeable about basic Downtown Clarksville, without boring the stuffing out of your guests.
So, unlike a recent self-anointed tour guide I overheard the other day, you'll have your facts straight. You'll be able to tell your visitors that The Roxy Regional Theatre is, in fact, a professional live performance theatre—it has been for 28 years! You'll be able to tell them that since the devastating Category 4 tornado in 1999, the Downtown area has been rebuilt and revitalized through the dedicated efforts of private investors, public officials and volunteers alike. You'll be able to tell them that Trinity Episcopal Church and the County Courthouse are prime examples of structures that underwent extensive renovations after the tornado.
There's much, much more to share about Historic Downtown Clarksville, so don't just sit there… Come and join us Downtown!
About Paige King
Paige Thomas King is owner of Hodgepodge and ARTifacts—two businesses located in the heart of Downtown Clarksville.  She is the Chairperson of the Two Rivers Company and the Downtown Clarksville Association—a group of business and property owners working together to promote and preserve the area.

She is also the co-host along with Hank Bonecutter of "Downtown, the Radio Show,"  heard weekdays on WJZM 1400 AM at 2:00 pm.

Web Site: http://www.hodgepodge-home.com/
Email:
Sections
News
Topics
1999 Tornado, Clarksville Area Chamber of Commerce, Customs House Museum, Historic Downtown Clarksville, Montgomery County Courthouse, Roxy Regional Theatre, Visitors Center, WJZM 1400 AM