The Second Annual Friends of Fort Defiance Civil War Ball and Dinner was held at Smith-Trahern Mansion, on Saturday, November 13th.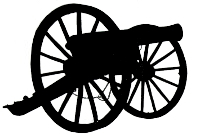 Having never attended a civil war ball before, both my husband Bill and I had little idea of what to expect. Of course, we knew that everyone had to wear period dress and that dinner would precede dancing. Other than that, we were clueless.
We arrived just before the beginning hour of 5:30pm in a soggy rainstorm that was not conducive to wearing a full-length formal gown. My search for the gown had covered three cities and about 75 hours of web searching before I finally settled on a floor-length deep brown strapless gown with a pick-up skirt from Bridal Warehouse in Rivergate. I covered my aging shoulders with a gold sequined wrap centered with a sunray-pointed gold pin with a brown gem at its center. My shoes were strappy copper heels—and I forgot to wear my elbow-length gloves!
Bill wore a Confederate uniform designed for the stage and rented from George Terrell at Backstage Costume Rental. The uniform was complete with a frock-style coat, matching trousers, a gold sash, and authentic style hat. Because the rental location on Madison Street had closed just after Halloween, George was kind enough to deliver the costume to my mother's home in Clarksville the day before the ball. (We live in Springfield and were not going to be in town to pick it up, and George had another commitment out of town on the day of the ball.)
Entering the door of the beautiful antebellum Smith-Trahern Mansion, we were greeted by Phyllis Smith, the person responsible for overall arrangements for the ball. She was most gracious and was, of course, dressed in a ball gown of the period. Her sky blue satin gown featured an overskirt of royal blue and was, of course, supported with a full hoop. She wore white mitts and carried a palm-shaped fan.
The ladies who attended the ball were attired in gowns of many hues ranging from bridal white to black. Each was as lovely as the next and with all the hoop skirts parading about the dance floor, the gentlemen had to be most careful where they put their feet. Passing from one room to the next required a single file parade. Silken flowers, beads, lace, and ribbons graced necklines, hair adornments and hemlines. Jewelry included cameos and other favorites of the era.
Men were dressed in not only Confederate uniforms but Union ones as well. Other men wore black frock coats, some with shirts sporting lace cuffs. Many gentlemen wore white gloves. One outstanding authentic prewar uniform of the Georgia Columbia Guard featured a red coat sporting a white plastron; it was topped with white epaulets. Blue trousers completed the uniform.
Donald Horton, one of the attending gentlemen, had just returned from Bicentennial Mall in Nashville where his reenactment unit, Porter's Battery, had their six cannon on Saturday for the beginning of the Sesquicentennial Celebration of the War Between the States. He is newsletter editor of The Cumberland Confederate for the Frank P. Gracey Camp #2005, Sons of the Confederate Veterans, Clarksville, and is also editor of The Sevier Sentinel for the Sons of the American Revolution.
A delicious dinner was catered by Geneva Bell and served by members of her family who are also active in Brandon Hills Heritage Youth Garden project and the Mount Olive Cemetery Historical Preservation Society. Participants were offered ham, chicken, mashed potatoes, new potatoes, fresh greens, gravy, homemade rolls, and an assortment of cakes and pies. All vegetables were grown locally.
Davalyn Black directed dances that were authentic to the period beginning with the Grand March. The Virginia Reel preceded the Broom Dance, a waltz. In the Broom Dance, one gentleman began dancing with a broom, the sweeping end as the head of his partner. When the music stopped, all other males had to switch partners but could never dance with the same lady as in the previous section of the dance. The gentleman who ended up without a partner would have to dance with the broom. Great fun was made of the fact that the broom "lady" would be "passed out on the floor" when her previous partner left her to find a human partner with whom to dance. During antebellum days, this was a typical way of getting people to become acquainted with each other.
The bluegrass music for the evening was provided by Cumberland Connections, so named because each of the musicians lives somewhere along the Cumberland River. Members of the group are Freddie Thomas, guitar, from Cunningham; Randy Holland on bass from Erin; Johnny Boyd, banjo, from Gallatin; and Tony Haley, fiddle, from Mount Juliet. Some members of the group have been playing for more than 40 years. Their lively entertainment contributed significantly to the gaiety of the ball.
Phyllis Smith gave a brief history of Fort Defiance, an earthen wall fort that was built to help deny Yankee troops the advantage of controlling the Cumberland River. Although the fort was not involved in any battles, it is historically important in Clarksville's history. The fort served as a supply depot for larger cities during the War. In April, 2011, the fort will be reopened with reenactment ceremonies.
Davalyn and Brian Black presented a short lecture on the Language of the Fan. Southern ladies who placed their fans on their right cheeks would be signaling "yes" to a gentleman across the room, or on their right cheek, the fan would indicate "no" to the question. If a lady opened and closed her fan slowly, she meant, "I want to speak with you." If the fan were moved rapidly, she did not wish to converse with you. A fan before the face meant the lady desired your acquaintance. If she fanned very quickly, she was saying she was engaged; if she fanned slowly, she meant she was married. If she dropped her fan, she was saying, "We'll just be friends." If she put her fan in front of the right side of her face, she indicated to "follow me." If she twirled her fan in her left hand, she was saying, "We are being watched." Best of all, if she drew her fan slowly across her face, she was saying, "I love you."
The ball was commemorated constantly through use of modern digital and video cameras. As Mrs. Black reminded one camera professional, "A lady is never photographed when she is stuffing her mouth or adjusting her corset." I shall leave it to the reader's imagination to decide which was going on at the time of the reminder.
So, just what goes on at a civil war ball? At the one we attended, we experienced good home cooking, spirited dancing, lively bluegrass music, and cordial interactions. No one discouraging word was heard among those of the opposite sides of the War. In short, a good time was had by all!
Photo Gallery
Video
About Sue Freeman Culverhouse
Author of Tennessee Literary Luminaries: From Cormac McCarthy to Robert Penn Warren (The History Press, 2013) Sue Freeman Culverhouse has been a freelance writer for the past 36 years. Beginning in 1976, she published magazines articles in Americana, Historic Preservation, American Horticulturist, Flower and Garden, The Albemarle Magazine, and many others. Sue is the winner of two Virginia Press Awards in writing.

She moved to Springfield, Tennessee in 2003 with her sculptor husband, Bill a retired attorney. Sue has one daughter,  Susan Leigh Miller who teaches poetry and creative writing at Rutgers University.

Sue teaches music and writing at Watauga Elementary School in Ridgetop, Tennessee to approximately 500 students in kindergarten through fifth grade. She also publishes a literary magazine each year; all work in the magazine is written and illustrated by the students.

Sue writes "Uncommon Sense," a column in the Robertson County Times, which also appears on Clarksville Online. She is the author of "Seven keys to a sucessful life", which is  available on amazon.com and pubishamerica.com; this is a self-help book for all ages.

Web Site: http://culverhouseart.com/
Email:
Sections
Arts and Leisure
Topics
Civil War, Civil War Ball, Dancing, Friends of Fort Defiance