Clarksville, TN – The Clarksville Police Department is requesting the public's assistance to help solve an attempted Robbery at "From the Heart Jewelers" at 571 S.  Riverside Drive. The attempted Robbery took place on December 10th, 2010, around 2:00pm.
There were three men involved in the robbery attempt. Two of the men entered the business while one remained outside. When the men entered, they demanded everyone get down. One of the would-be robbers displayed a handgun while the other broke the glass on a jewelry case. When one of the business owners in the back room heard glass breaking, they thought shots had been fired inside of the business.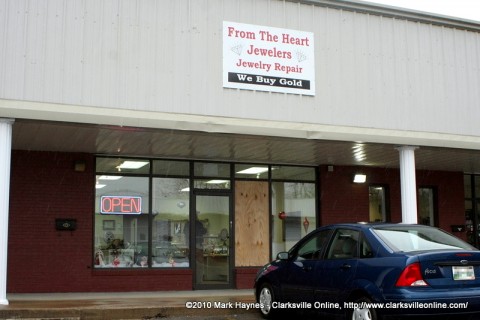 The business owner retrieved a handgun and shot at the robbers. The robbers fled from the business in a Green Honda Accord.  The Green Honda Accord was found still running at the apartment complex at 939 S. Riverside Drive, but was unoccupied.
Officers flooded the area, but could not locate the suspects. Officers do not know whether the suspects left in another vehicle or remained in the apartment complex.
The investigators believe there was preplanning involved in this robbery. The attempted robbery was committed during the daytime along a busy roadway. The car was hot-wired and stolen from 922 Power Street, Lot 53, a half hour before the attempted robbery, which is unusual to see. Also, there seemed to be an escape plan in place for the robbers.
Anyone with information is asked to call Detective Mike Ulrey, 931-648-0656 or the TIPSLINE, 931-645-8477.