APSU Men's Basketball

Clarksville, TN – Zac Swansey hit a deep three pointer from the top of the circle with 1.2 seconds left to lift Tennessee Tech to a 71-68 Ohio Valley Conference victory against Austin Peay State University, Thursday night, in Dave Aaron Arena.
The victory improved Tennessee Tech to a 9-8 overall record, 5-3 in the OVC. The Governors, meanwhile, suffered their second straight loss-and first league home loss–to fall to 12-8 overall and 6-2 in the OVC.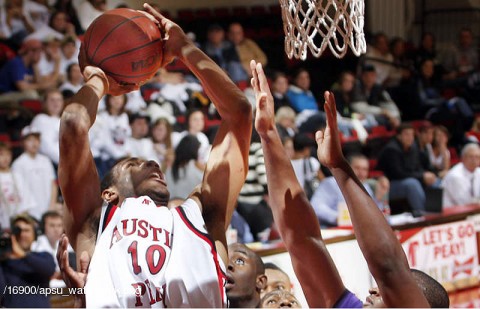 Swansey's bucket was a microcosm of the second-half. Zac Bailey had just missed a jump shot at the shot clock buzzer with 12 seconds left in the game. But Tennessee Tech's Terrell Barnes gained the offensive rebounds-the 11th offensive rebound of the second half-and kicked it out to Swansey to set up the winning shot.
In fact, after APSU limited the Golden Eagles to four second-chance points in the opening half, the visitors accrued 18 in the second half. As a result, the Governors, who led by as much as seven second-half points on three different occasions, could not pull away.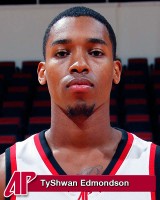 The Govs held a 43-36 lead with 13:36 left in the half on a TyShwan Edmondson tip-in, but Tennessee Tech scored the next nine points. From that point, the score changed hands eight times and it was tied seven more.
One of those times came with 1:07 left as Tech's Zach Bailey answered Edmondsons's jump to make it a 68-68 contest. However, the Governors were called for a three-second violation with 49 seconds left, setting up Tech's final possessions.
Bailey led Tech in scoring with 16 points while Kevin Murphy added 14 and Swansey 12. The OVC's assist leader also had five dimes.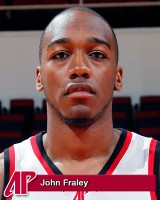 Edmondson, the OVC scoring leader who was saddled with two first-half fouls, led all scorers with 25 points, tallying 20 in the second half. He also tied for the team rebound lead with six.
However, only one other Governor reached double figures-John Fraley had 10.  Freshman forward Will Triggs had a strong off-the-bench performance with eight points and five rebounds-all on the offensive glass.
For the second straight game the Governors struggled shooting the basketball. After shooting only 40 percent at Tennessee State, Saturday, the Govs could only muster 35.6 percent (21 of 59) against the Golden Eagles, who were just shy of 50 percent (27 of 55).