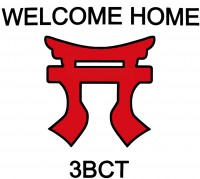 Fort Campbell, KY – The return of the 3rd Brigade Combat Team from the Khowst Province of Afghanistan continued yesterday morning with the arrival of 200  "Red Knight Rakkasans" part of the the 3-320th Field Artillery unit.
Family and friends of the returning soldiers had gathered together to give their loved ones a proper welcome home.
It started at 07:24am as the plane touched down to a chorus of cheers. After the stairs were put in place, the soldiers rapidly disembarked from the aircraft and proceeded to march to a assembly point near the hangers to drop off their gear so they could visit with their families. Then the soldiers then marched into the hanger before the cheering crowd. After a short ceremony it was time for some quality family time. This was the first time many of these soldiers had seen their loved ones since early 2010.
After the ceremony it was time for the soldiers to march out to the buses as the families were given a last minute briefing on potential issues that may arise and how to best to handle them.
This was the fifth welcome home ceremony for the 3rd Brigade Combat team this month.  One flight is schedule for 6:30pm On Wednesday, and two flights on Thursday (12:10am and 5:30pm). The entire unit is expected to be home by the end of March. They are the vanguard for the return of the entire 11,000 member 101st Airborne Division, which should be fully home by the end of June. On Sunday evening elements of the 717 EOD are due in.
If you are interested in attending a Welcome Home Ceremony visit the Welcome Home Ceremonies Flights Page at the Fort Campbell Web site.
Video
Photo Gallery
About Bill Larson
Sections
News
Topics
101st Airborne Division, 3-320th FA, 3rd Brigade Combat Team, 717 EOD, Afghanistan, Fort Campbell KY, Red Knight Rakkasan, U.S. Army, Welcome Home Ceremony