Clarksville, TN – When officers saw Michael Birdwell on the parking lot of a business at 4:00am this morning, they stopped to talk to him. Birdwell is well-known to Clarksville officers due to his lengthy criminal history. While Officer David Miller was talking to Birdwell, he found that Birdwell had a GPS in his possession. Birdwell was released since there was no evidence of a crime at that moment.
Officers started checking businesses in the area, following Birdwell's boot tread prints in the snow. The tread prints lead Officer Tom Ortiz to an unlocked Jeep Cherokee parked on the lot of a Riverside Drive business. Ortiz looked inside of the vehicle and saw a snow imprint on the floor board and seat.  The imprint looked like the tread on the bottom of Birdwell's boots. The owner of the Cherokee was located and told officers there had been a GPS inside of the vehicle.
Officers found Birdwell again and looked at the GPS in his possession and found the owner's home address information programmed into it.
Michael Birdwell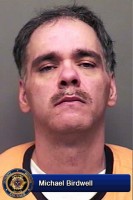 Name: Michael Wayne Birdwell (W/M)
DOB: 9/28/68
Given Address: 1234 Greenfield Drive, Clarksville, TN
Charged With: Vehicle Burglary. 
Bond: $15,000.
The lead investigator is Detective Nick Newman, 931-648-0656 or the TIPSLINE, 931-645-8477.