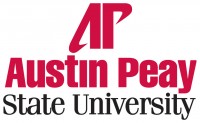 Clarksville, TN – As the demand for biodiesel fuel increases across the globe – it is predicted to reach 12 billion liters this year – a previously unforeseen complication has arisen in the production process.
Glycerol, a colorless, odorless liquid, is generated as a byproduct of biodiesel production, and the sheer quantity that is created affects the economic viability of this industry. What should producers do with those billions of unneeded liters of glycerol?
Dr. Sergi Markov, associate professor of biology at Austin Peay State University, has an idea that could help push the alternative fuel race to new levels of possibility. For the last several years, Markov and two of his APSU students – Jared Averitt and Barbara Waldron – have studied the effects of the bacterium Enterobacter aerogenes on glycerol. Turns out, the bacteria converts the liquid into another biofuel, molecular hydrogen.
"Bacteria ferment glycerol into hydrogen (and ethanol) with a minimal amount of other byproducts," Markov said. "Our bioprocess for conversion of glycerol into hydrogen fuel is ready for practical application. We were able to inject hydrogen from the bioreactor directly into a small fuel cell, and generated enough electricity to power a small fan."
Markov, Averitt and Waldron recently co-authored a paper on their findings, which was published earlier this year in the International Journal of Hydrogen Energy.  That paper, "Bioreactor for Glycerol Conversion into H2 by Bacterium Enterobacter aerogenes," could open more opportunities for biofuel production in the future, further limiting the public's dependence on oil.
For more information on Markov and his National Science Foundation-funded research, contact him at 931-221-7440 or markovs@apsu.edu.