APSU Men's Basketball

Jacksonville, AL – Austin Peay will attempt to build some late-season momentum as it travels to Jacksonville State, 7:00pm, Tuesday, for its final Ohio Valley Conference road game.
The Governors will be facing a Jacksonville State team that currently is on the outside looking in as far as qualifying for the OVC tournament. The 3-13 Gamecocks sit in 10th place in the OVC standings-only the top eight teams advance to tourney play in Nashville, beginning March 2nd.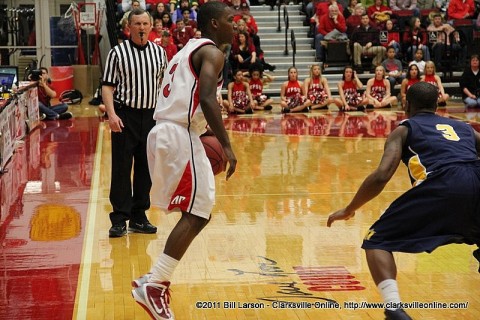 However, when APSU and JSU played the first time it appeared the Gamecocks had no chance of even thinking about qualifying for the tourney, owning no league victories at the time. However, JSU now has won three times, including road wins at Eastern Illinois and Southeast Missouri, and came so close Saturday to pulling off a third road victory, only to lose at Murray State, 60-59.
Senior guard Nick Murphy continues to be one of the OVC's top players. The versatile guard/forward is averaging 15.4 ppg while also pulling down a team-leading 6.0 rpg.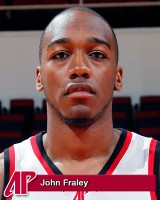 Senior guard Jeremy Bynum (10.3 ppg) is one of the OVC's top perimeter players with 55 three-pointers made. He and Murphy will be two of the three Jacksonville State seniors who will be honored Tuesday in their final Pete Mathews Coliseum appearance.
Austin Peay, meanwhile, showed signs of eradicating some of its late-season lethargy, defeating Tennessee State, 79-64, Saturday night. Now the Govs are seeking back-to-back wins for the first time January 22nd (Jacksonville State) and January 29th (Eastern Kentucky).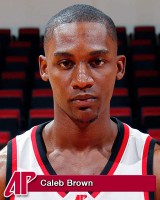 It was some of Dave Loos "old-school" basketball on display against Tennessee State. Long known over the years for playing inside out, the Governors saw starting inside players John Fraley and Will Triggs combine for 32 points. In fact, Fraley finished the night with a career-best 21 points on 9-of-12 field goals while also grabbing seven rebounds and blocking four shots.
Triggs made it four straight games in double figures with 11 points and six rebounds.
Offensive balance also was key as point guard Caleb Brown added 14 points, five assists and five steals to spark the Govs' backcourt. TyShwan Edmondson added 13 points and a team-high eight rebounds.
What You Should Know
The Series: This is the 16th meeting between Austin Peay and Jacksonville State University, two Ohio Valley Conference foes, with APSU holding a commanding 15-1 lead. The Governors have won the last nine meetings in the series, including an 80-66 decision in Clarksville, January 22nd. TyShwan Edmondson scored 23 to lead the Governors.
What A Win Would Mean: The Govs would own a two-game winning streak. They would rise to six games above the .500 mark at 17-11 before heading to Fairfield, Saturday, for the ESPN BracketBuster game. It would make the Govs 11-5 in the OVC. It would give the Govs an 8-7 road record this season. It would make the Govs 6-3 on the road during OVC play. It would make the Govs 3-2 in February. It would improve the Govs to 16-1 all-time in the series. It would be APSU's 10th-straight win in the series. It also would be Dave Loos' 430th career college coaching win and 348th APSU victory, leaving him two shy of 350 league victories. It would improve Dave Loos to 16-1 against Jacksonville State. It would improve Dave Loos to 6-0 against current JSU coach James Green.
What A Loss Would Mean: It would be the Govs third-straight OVC road loss. It would be the Govs fourth loss in the last six games. The Govs would drop back to four games above the .500 mark at 16-12. It would drop APSU to 10-6 in the OVC. It would allow JSU to snap the Govs nine-game winning streak in the series. It would be Dave Loos' 341st all-time loss and 288th APSU defeat.
Turnoverheat: Tennessee State committed 22 turnovers against the Govs, Saturday, marking the 10th time this season APSU forced more than 20 turnovers and the 23rd time this season the Govs had fewer turnovers than the opposition. However, Austin Peay turned it over 19 times, 11 turnovers belonging to Caleb Brown (6) and TyShwan Edmondson (5).
Warming UP: As the temperatures warmed up outside, Saturday, the Governors began heating up inside. Austin Peay made 29 of 52 from the floor against Tennessee State for 55.8 percent shooting. It was the 14th time this season the Govs shot better than 50 percent from the field.
Brown Recluse: Senior guard Caleb Brown had a career-high five steals against Tennessee State, including three in the second half. It was the third time this season an APSU player had five steals, joining Josh Terry against Memphis and TyShwan Edmondson versus Charleston Southern.
Next Game
Saturday, February 12th, at Noon
Webster Bank Arena at Harbor Yard, Bridgeport, CT – Fairfield men's basketball team captured its 20th victory, Sunday, in overtime as it defeated Saint Peter's College, 70-69. The Stags own a 13-2 Metro Atlantic and a three-game lead with three conference games left to play. The Stags have won eight of the last nine games entering the week. Sophomore guard Derek Needham remains the team's top scorer, averaging 14.4 ppg. He has scored in double figures in all but four games this season. Center Ryan Olander is next in line with a 10.6 scoring average. Olander is the team's top rebounder with 7.2 caroms per contest.