APSU Women's Softball

Columbia, TN – Austin Peay picked up its first win of the season Sunday behind a complete-game pitching performance from freshman Taylor Mills to earn a spilt in its final two games at the Belmont/Hampton Inn-Brentwood Spring Classic by beating Belmont 8-4, after dropping its opener to Wright State, 7-4.
Austin Peay (1-3) scored twice in the first inning against the Bruins, with junior Morgan Brewer singling in senior Tiffany Smith, with Brewer coming around to score on a double be red-shirt sophomore Shelby Norton.
The score remained 2-0 until the third inning, when the Lady Govs offense flexed its muscles by smacking two balls out of the park, the first a three-run shot to right-center field by freshman Lauren de Castro – scoring junior Catie Cozart and Smith – to make it 5-0.
After Belmont (1-3) got the next two Lady Govs to groundout red-shirt sophomore Jessica Ryan blasted her first home run of the season out to straight away center field to make it 6-0.
That would be all that Mills would need, as the Oklahoma right-hander threw a complete game in her first collegiate start, not giving up a run until the sixth inning.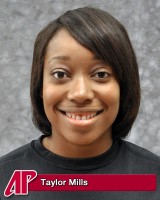 The Lady Govs would add a run in the sixth on an RBI double by de Castro who finished with three hits and four RBI — scoring Cozart, making it 7-0.
Brewer was the other Lady Gov to have multiple hits, with two.
Belmont would score twice in the bottom of the sixth, but Austin Peay answered right back with its final two runs of the game in the seventh inning, with Ryan and Mills scoring on wild pitches.
The Bruins tacked on two more runs in the bottom of the inning for the 8-4 final.
In the opener against Wright State, the Raiders jumped out in front 1-0 in the second inning, but Austin Peay answered right back.
Red-shirt freshman Whitmire lead off the bottom of the inning with a home run to left field — and after a single by de Castro – Norton blasted a two-run shot out to left center giving the Lady Govs a 3-1 lead.
The Austin Peay lead was the first time all weekend that Wright State had trailed in a game.
Wright State would tie the game 3-3 in the top of the fourth inning, aided by a walk, an error and a wild pitch.
The Raiders would take the lead for good in the fifth inning, scoring four runs – including three of those runs coming on two home runs by Wright State.
Austin Peay would try to mount a rally in the bottom the seventh inning, scoring one run to make it 7-4 , and loading the bases with Whitmire up as the possible winning run, but she grounded into a fielder's choice to end the game.