APSU Men's Golf

Dade City, FL – Austin Peay State University men's golf team finished 20th at the USF Invitational, Sunday, played at Lake Jovita Golf Club.
The winter weather that has plagued the Clarksville area over the past few months showed its wear on the Govs as they struggled to adjust during their season-opening tournament. In a game where practice defines play on the course, the Govs seemed to be a phase behind where they would typically be to start the spring season.
"We just haven't been out on the golf course enough and it showed," Kayden said. "The mental game is something it can take a while to get back to. We'll be much better next week in California. You always play better the second tournament, so I'm looking forward to that."
Freshman Marco Iten led the Govs, shooting a three-round 225 (78-77-70) which told the story of Austin Peay's effort. Much like how Iten improved each day, the Govs showed marked improved as a team from round to round.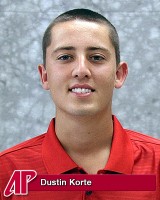 They shot a first-round 315, failing to record an under-par score. The second round was led by sophomore Dustin Korte's even-par 72 as the team improved 11 strokes to 304. Iten fired a two-under 70 in the final round to help the Govs card a 298 team total.
"We made some progress," Kayden said. "We're still a little bit away from where we want to be, but we're getting there. It's the first tournament of the year and I feel like we improved a little bit each day. We have to get better for the second tournament."
The team's three-round 917 was 15 strokes behind 19th-place Toledo and 17 strokes ahead of 21st-place Rhode Island. Middle Tennessee won the event with a 26-under par 838, 19 shots in front of second-place Florida State at 857.
Austin Peay managed to put all four players in the 70s for the final round, a feat accomplished only once in the event. Behind Iten's 70 was senior Brian Balthrop (103rd/87-89-72=250) with a two-over 72, his tournament's low round. Korte finished t-71 (80-76-76=228), followed by senior Luke Sherrod in 89th (77-76-78=231) and freshman Trey Tarpley (80-79-79=238).
The Govs make a west coast swing next week for San Francisco's USF Triumph, played a Pauma Valley Country Club in San Diego.