APSU Men's Football

Clarksville, TN – Head football coach Rick Christophel has named Tyler Trent as Austin Peay State University's offensive line coach, announced Thursday afternoon prior to the second day of spring practice.
He replaces his former mentor, Steve Haywood, who resigned last week to pursue a high school coaching position in Nashville. Combined with the timing off that announcement and the start of spring football practice, Christophel was seeking someone who had knowledge of the Govs system to prevent any lapse in spring preparation and production, especially with a deep, but young group of offensive linemen returning.
Fortunately for Christophel, he had that person at hand in Trent, who will be embarking on his first full-time collegiate coaching position
"Tyler is well-respected by our players and he knows our system," Christophel said. "He's a young guy that's going to work hard to do all the things and learn how to do all the things he has to do administratively. I think he'll be a great recruiter because of his personality. He's the type of guy that can talk to anyone and be knowledgeable about the situation."
Trent spent the 2010 season as the Governors defensive graduate assistant, working alongside defensive line coach Ryan Taylor. That was after spending four seasons as an anchor on the Govs offensive line, two as a starting offensive tackle, under the coach he is replacing, Haywood.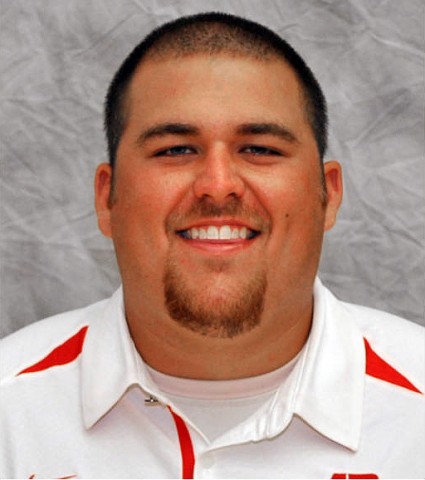 In his four-year career with the Governors Trent proved to be a solid contributor. Originally recruited as a potential guard (he wore No. 61), he was shifted to tackle and, despite being undersized (6-1, 285) at the position, proved to be a solid technician. He started 22 straight games and was part of a 2009 offensive line that produced two first-team All-Ohio Valley Conference running backs in Terrence Holt and Ryan White.
"He'll have to earn the respect of these guys as a coach," Christophel said. "He's already respected by them for how hard he played and now it's become a point of letting them know he understands what he's talking about. I don't think it will be hard for him to accomplish that through the spring."
As a graduate assistant, Trent's work with the defensive line only helped prepare him even more as an offensive line coach, learning techniques and schemes of players on that side of the ball. However, Trent's responsibilities were not limited to coaching defensive tackles. He also served as the team's video coordinator, assisting with opponent film breakdown in terms of game preparation. Trent brings viable personnel skills as well, having worked in player evaluation and aiding with out-of-state recruiting.
The Oak Ridge native graduated from Austin Peay, in Spring 2010 with a bachelor's degree in business management. A three-time member of the President's List (4.0 GPA) and Dean's List, he twice was an Academic All-America nominee and was selected to the 2010 Hampshire Society sponsored by the National Football Foundation.