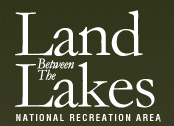 Golden Pond, KY – Rising lake levels have created flood conditions and caused the staff at Land Between The Lakes (LBL) National Recreation Area to close or restrict certain roads, trails, and campsites. The lake level for Kentucky Lake and Lake Barkley is currently at 362' (summer pool is 359') and is predicted to crest on Saturday at 363.5'.
Visitors should use caution on all roads and lakeside areas in LBL due to possible flooding from rising lake levels. 
Some trails, roads, and lake access areas that are prone to flooding or danger from rising lake levels have been closed.  LBL staff warns visitors who use the trails, roads, camping areas, and boat ramps to be extremely cautious. In addition, everyone is urged to use caution when crossing creeks, streams, or any areas with standing or flowing water. These areas should be avoided whenever possible. 
Turkey Bay Off-Highway Vehicle Area will re-open Friday morning after being closed due to heavy rainfall that resulted in flood damage and saturated soil conditions. Camping will be limited and some trails closed due to high water. 
People considering a visit to LBL are encouraged to visit the Alerts & Notices page on our website at www.lbl.org or to "Call Before You Haul," 270-924-2000, for current information and details.
Sections
News
Topics
Boat Ramps, Camping, flooding, Kentucky Lake, Lake Barkley, Land Between the Lakes, LBL, Roads, Trails, Turkey Bay Off-Highway Vehicle Area