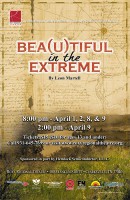 Clarksville, TN – Taking a chapter out of the history books and bringing it to life is what the Roxy Regional Theatre has done with their production of Bea(u)tiful in the Extreme. The play follows the life of Meriwether Lewis through a series of flashbacks from his youth, the grand journey with William Clark and across a young America, through to his untimely death.
The plot recounts encounters with the hospitable but doomed Mandan people, raging rapids, various pests and pestilences, suspicious Lakota warriors, frozen mountain passes, and York, a slave who is seeking to develop his own ideas of freedom.
Years later, as Lewis sets out to edit his final report to get it ready for publication he is haunted by his memories of Thomas Jefferson, William Clark, Fur Trader Toussaint Charbonneau, his young Shoshone wife Sacajawea, along with others they met along the way.
If you are interested in learning more about the expedition, you can see the play at the Roxy Regional Theatre, or read the journals Lewis Meriwether wrote during the journey at http://xroads.virginia.edu/~HYPER/JOURNALS/toc.html
Mark Cabus, founding artistic director of Nashville's award-winning Naked Stages and Green Room Projects, directed the stellar cast — Thomas Gregory, Ryan Bowie, Ashton Crosby, Gili Getz, Ted Jones, Travis Kendrick, Keith Patrick McCoy, Brandon Meeks, Keith Panzarella and Kendall Anne Thompson — as they perform over three dozen roles. Each of them had their moments in the spotlight and they took full advantage of it. The actors and actresses work well together playing off of each others strengths and weaknesses to bring a real sense of humanity to their characters.
The sets were quite well done, the opening a backdrop showing the wilderness that Lewis and Clark were to explore. My favorite however was the simple wooden raft that served as the center of attention for the majority of the play. The only element that was really out-of-place was the metal scaffolding which served a platform for several of the performers.
This show is worth the admission price, and will easily entertain young or old.
Three shows are left, 8:00pm Friday, a 2:00pm matinee on Saturday, and 8:00pm Saturday night. Tickets are $15.00 ($10.00 for ages 13 and under), and may be reserved online at www.roxyregionaltheatre.org, by phone at 931-645-7699, or at the theatre during regular box office hours (9:00am-2:00pm, weekdays).
This production was made possible through the generous support of the National Endowment for the Arts, and Hemlock Semiconductor LLC.
Photo Gallery