Family and Friends of David Barbee

Clarksville, TN – Please join us as we show our support for David in his fight against cancer.
Join Team Barbee in the Country Music Marathon and 1/2 Marathon.
$100.00 donation (race and non-race participants) will get a Team Barbee T-Shirt with Team and Sponsor/Business names printed on the back. (You do not have to participate in race to donate)
If you plan to participate on race day, you must register on your own. Do not wait too long as the price increases the closer it gets to race day. Please remember that you must fill out a Team Barbee registration form so we offically know everyone that has joined the team plus you MUST register at the official Country Music Marathon website.
We also need to know by April 20th if you plan to participate in the race and/or are making $100.00 donation in order to have team T-Shirts printed.
We are so excited about the race and can not wait for you to join us!
Contact Cory or Amanda Rasch 931-320-1393, or Jonnie Rasch 931-320-1121 for more information.
Donations
Planters Bank (Main Branch-Downtown Clarksville) has a Team Barbee account set to accept donations. Donations can be as small or as large as you like. All monies made will be donated to the Barbee family.
Checks made payable to Team Barbee may be mailed to:
Cory Rasch
788 Daisy Circle
Cumberland Furnace, TN 37051
About the Country Music Marathon and 1/2 Marathon
Nashville, TN – The Country Music Marathon & ½ Marathon presented by Nissan will begin at 7:00am on Saturday, April 30th. After celebrating their accomplishment with a post-race concert and finish line festival at LP Field, runners will have the best ticket in town as Nashville legends Montgomery Gentry take the stage at Bridgestone Arena later that evening for the headliner concert.
Runners can get prepared for race day at the Health & Fitness Expo presented by Power Balance on Thursday, April 28th and Friday, April 29th The expo is free and open to the public and takes place at the Nashville Convention Center. A runner's ultimate resource, the Expo brings together nearly 100 exhibitors offering the best in gear, nutrition, and training along with legendary running experts and athletes hosting interactive clinics.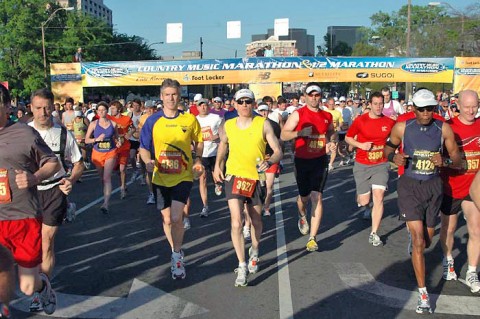 More than 4,700 kids in grades K-7 will run a marathon of their own at ING KiDS ROCK Nashville on Friday, April 29th. The cumulative kids marathon program aims to tackle childhood obesity by demonstrating that physical activity can be fun and instilling a lifetime love of fitness. ING KiDS ROCK Nashville is sold out.
Full course information and maps can be found online at www.nashville.competitor.com.