APSU Men's Baseball

Morehead, KY – Austin Peay's baseball team begins the regular season's final four weeks by returning to Ohio Valley Conference play with a three-game series at Morehead State. The series is scheduled to begin with a noon (CDT), Saturday doubleheader before concluding with a noon, Sunday contest.
Austin Peay (19-19, 7-4 OVC) rejoins the OVC race following a rain-drenched week off that included a rain-shortened series at SIU Edwardsville last weekend and playing only one of its two scheduled midweek contests. The Govs lost their only game played at SIUE, falling 1-0 in six innings, before bouncing back with a 7-5 Tuesday win at Belmont.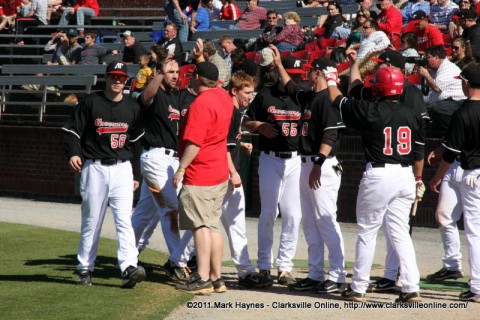 The Govs (.636 OVC win percentage) sit atop the Ohio Valley Conference standings at the midway point but enjoy just a 2.1-point lead over co-leader Southeast Missouri, which is 8-5 (.615). In fact, the entire league is bunched tightly together with last-place Morehead State sitting only 3½ games back at 3-7.
The Govs offense has enjoyed April, batting an impressive .347 during the month and averaging 7.8 runs per game. Sophomore shortstop Reed Harper has led the effort with a month-long hitting streak that has reached 16 games entering this weekend's series. He leads the team with a .429 batting average in the month, with seven doubles and 11 RBI.
On the season, junior center fielder Michael Blanchard and freshman second baseman Jordan Hankins bring identical .344  batting averages into this weekend's series. They are followed closely by junior outfielder Jon Clinard, who is batting .340 this season and has 10 hits in his last four games.
The Govs weekend rotation will remain the same for the sixth consecutive week with junior left-hander Jeremy Dobbs getting the nod Saturday, followed by senior southpaw Jack Snodgrass and junior lefty Zach Toney. The Govs weekend pitching staff has combined for a 6-4 mark and 4.22 ERA in the team's four weekend April series.
Dobbs (7-2) enters the week ranked 17th nationally in victories, falling two wins behind a group of four players tied for the nation's lead. He notched his OVC-leading third victory in the Govs Game 1 win at Jacksonville State, April 16th. Snodgrass (1-5) continues to battle hard luck on the mound, watching a potential Game 2 win at Jacksonville State, April 16th, derailed by three defensive errors and turned into a loss. Toney (3-2) picked up a midweek start against Belmont, Tuesday, allowing one run and four hits over four innings.
Morehead State (7-30, 3-7 OVC) ended an 11-game losing streak by winning the final two games of its OVC series with Tennessee Tech last weekend. The Eagles have not played since their 11-4 victory against Tennessee Tech, last Saturday, as they saw a pair of midweek outings washed out.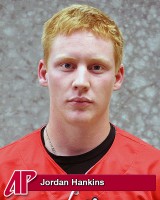 Junior catcher Taylor Davis is powering the Morehead State offense, leading the team with a .378 batting average, 11 home runs (15th nationally) and 33 RBI this season. Those numbers include an impressive .438 batting average and five home runs in OVC play. Davis ranks fifth among the league's hitters in batting average and second in home runs in OVC action.
The Eagles weekend rotation will be led by senior right-hander Trey Smith (0-8) who is seeking his first victory this season after allowing seven runs in 4.1 innings in a Game 1 loss to Tennessee Tech, last Friday. Sophomore left-hander Garrick Whittle (2-3) gets the nod in Game 2 after striking out 12 in a seven-inning Game 2 victory against the Golden Eagles. Freshman southpaw Noah Smallwood (1-4) will seek to follow up his season's first victory this weekend. He held Tennessee Tech to three runs over five innings in last weekend's series finale.