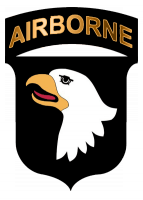 Fort Campbell, KY – It's was an early morning arrival this morning at 328 soldiers with the 1st Brigade Combat Team arrived Wednesday morning at Campbell Army Airfield. Friends and family didn't mind the cool morning temperatures or that the flight was a few minutes late arriving.
Maybe the pilot was trying to give a little more time for SGT Charles Sweeney to prepare for his big moment.
Once the plane was in sight, cheers broke out as the year long deployment to Afghanistan has come to an end. Their soldier was finally home once again.
Soldiers made their way past the crowd shaking hands and a few hugs with the wounded soldiers on hand to welcome their unit home. Soldiers dropped thier gear and formed up for their march inside hanger 3.
Once inside the hanger Brigadier General Jeffrey N. Colt welcomed everyone home in a short speech to the soldiers before everyone was allowed 15 minutes of family time before heading back to their unit to turn in their gear. As soldiers were released, it was a race for family members to find their soldier.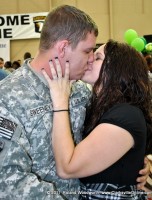 Along the back corner of the hanger, there was a little more excitement brewing as SGT Charles Sweeney actually proposed to his girlfriend Sarah Spencer right there in the hanger. Of course Sarah said YES !
SGT Charles Sweeney was greeted by his girlfriend Sarah Spencer, Mother Betty Sweeney Father Ray Sweeney and Sarah's best friend Lindsey.  SGT Sweeney said he has been planning this moment for about 6 to 7 months. Sweeney has served two tours in Iraq and just completed a tour in Afghanistan said he is ready to settle down.
The excitement was contagious. One little girl of 2 1/2 years of age was so excited when her daddy put a necklace around her neck. She gave him a big hug as tears rolled down her face.