The motto for the Center for Audiology is simple, "Before We Help You Hear, We Listen!"


Clarksville, TN – Hearing is one of the most important of your five senses. We hear all of the great moments in our lives, the first time someone tells you "I Love You," The simple "I do" when you get married, your child's first word, and so much more. That is why it is so very important to take the very best care of your hearing.
Dr. Emiko "Emi" LeJeune and Dr. Aubrey Carr, the audiologists at the Center for Audiology in Clarksville can help you protect and care for your hearing, and in doing so ensure that when the time comes you will be able to clearly hear those life changing words.
The Center for Audiology has served Clarksville and the surrounding areas for over 33 years. Founded by Dr. Barry Freeman in the late 70's, LeJeune took over the ownership of the business in 1997.
"On the average day we serve the needs of 15 to 20 patients," she said, "We see people of all ages, ranging from infants 2 weeks old or younger, to the elderly. Our oldest patient is 104."
In addition to hearing tests, the Center for Audiology provides services for all makes and models of hearing aids, provides consultations for assisted listening devices, sells and installs alerting devices for the hearing impaired, conducts balance evaluations, and provides consulting services to business and industry designing custom hearing protection programs, along with a myriad of other services.
Hearing protection is important because noise induced hearing loss is the only type of hearing loss that is completely preventable. "If a sound is loud enough that you have to raise your voice to be heard over it from two feet away, it's loud enough to damage your hearing." LeJeune said.
We learn all of our speech and language through our sense of hearing. That's one of the reasons infants have their hearing screened even before they leave the hospital.
Hearing loss in any age can create a sense of isolation, and has been linked to depression, "It's can be really scary." This is something I can personally attest to having experienced the temporary loss of hearing in one ear as a result of a middle ear infection not long ago.
1 in 5 teenagers have significant hearing loss. "Some of this can be traced back to portable music players that are often play at a volume loud enough to damage hearing." said LeJeune. "Noise induced hearing loss is insidious, you often don't feel pain but you may be losing hearing. And once it's gone, it's gone, and you can't get it back." she said.
LeJeune pointed out that sporting events and concerts can be dangerous places for your hearing. "At Nascar races sound pressure readings at the start can be louder than a jumbo jet getting ready for takeoff. At some live concerts the areas closest to the stage expose concert goers to sound levels loud enough to cause physical pain."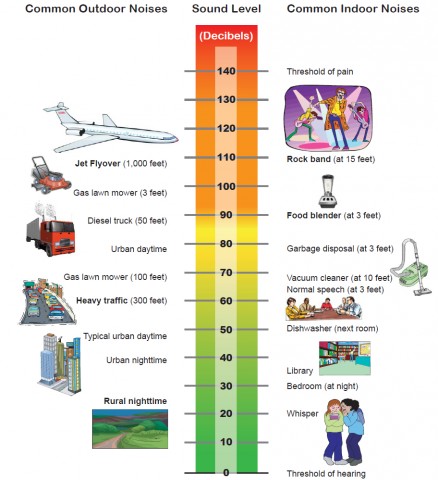 Hearing protection should be used when in loud environments and can be purchased at many retail establishments. The type of sound is not as important as the decibel level at causing hearing damage. Listening to music that is turned up too loud can be just as bad for your hearing as being at the starting line of a Nascar race.
LeJeune recommends that people with known hearing issues be tested at least once a year. Most children receive screenings at school that would suffice, however adults should on the lookout for certain signs or symptoms.
the television or radio is turned up to a high volume
requires frequent repetition of speech information
have difficulty following conversations involving more than 2 people
has difficulty hearing in noisy situations like restaurants or crowded meeting rooms
peoples voices sound muffled or like they are "mumbling"
ringing sounds in the ears
If you identified with one or more of the above symptoms, then you should consider have your hearing checked, and the staff at the Center for Audiology are there for you. "If one family member has a hearing loss, the whole family has a hearing problem." Lejeune said.
The audiologists and staff of the Center for Audiology strive to provide comprehensive and professional hearing health care, from prevention to rehabilitation, for those individuals with hearing concerns. Your course of care will be custom designed based on your individual needs with the goal of improving your quality of life through better hearing.
Clinic hours are from 8:00am–5:00pm Monday through Friday. For more information, or to schedule an appointments you can call them at (931) 645-3937 or toll free at (800) 464-9952. You can also email them via their web site. The clinic is located at 1740 Memorial Drive in Clarksville, TN.
Audiological Services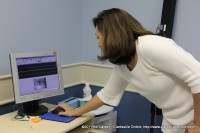 Diagnostic audiological evaluations for all ages from newborn infant to geriatrics
Hearing aid evaluation and counseling to determine the need for and most appropriate type of hearing aid
Video Otoscopic inspections of the ear
Balance and vestibular evaluation
Specialized evaluation of infants and children
Electrophysiologic auditory evaluations
About Dr. Emiko "Emi" LeJeune, Au.D.
Emiko "Emi" LeJeune obtained her Doctor of Audiology degree from Central Michigan University. She is nationally certified through the American Board of Audiology and the American Speech-Language & Hearing Association. Dr. LeJeune is licensed for audiology through the State of Tennessee and also in the State of Kentucky.
Dr. LeJeune also holds a Master's degree in Audiology from Vanderbilt University and a Bachelor of Science degree in speech pathology from Truman State University.
Emi has been practicing audiology since 1989. Prior to working with the Center for Audiology, she served for over six years in the US Army. Assignments included the Army Audiology and Speech Center at Walter Reed Army Medical Center and Hearing Conservation Officer for the Military District of Washington DC.
She has two children, and a variety of pets, all of which keep her busy at home. In her spare time she enjoys reading, music, karate, and is an avid runner.
About Dr. Aubrey Carr, Au.D.
Aubrey Carr obtained her Doctor of Audiology degree from the University of Memphis. She is nationally certified through the American Speech-Language & Hearing Association, as well as a member of the American Academy of Audiology. Dr. Carr is licensed for audiology through the State of Tennessee. Dr. Carr also holds a Bachelor of Science in Communication Disorders from Western Kentucky University.
Prior to working with the Center for Audiology, she completed her internship with the Tennessee Valley Department of Veteran Affairs. Dr. Carr feels her patients are the reason she chose this profession and are the most important part.
In her free time, she enjoys spending quality time with family and friends. She also enjoys painting, singing, and running with her dog.
Map
About Bill Larson
Sections
Business
Topics
Hearing, Hearing Aids, NASCAR