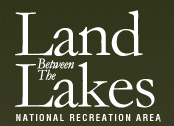 Golden Pond, KY – It's time to slip on your hiking boots or grab your bike and get out on your favorite trails at Land Between The Lakes (LBL) National Recreation Area to celebrate the 19th Annual National Trails Day on Saturday, June 4th, 2011. 
The theme for National Trails Day 2011, Made With All Natural Ingredients, encourages all Americans to get outside, connect with local outdoor clubs, businesses, community groups, and parks and recreation departments as well as federal land managing agencies to experience, appreciate and celebrate the natural places where we can find a spread of scenery, a plateful of peace, and a heap of happiness and health.
National Trails Day in LBL will combine some sweat with some fun and accomplishment.  The staff and volunteers from LBL and "Friends of LBL" (LBL Association) have projects planned focusing on rerouting mile long sections of the North/South Trail.  Staff and volunteers will be meeting at 8:30am at North Welcome Station and working from 9:00am to 4:00pm. 
"Trails are a great way to get active and get outdoors, this workday is an opportunity to give back to the places you enjoy," said Kyle Varel, Assistant Trails Manager at LBL.  "LBL offers hikers, bikers, and riders, both four-legged and four-wheeled, hundreds of miles of scenic trails along green forests, open lands, and tranquil shoreline."
Participants who want to volunteer to help out with projects on LBL's hiking or biking trails are encouraged to pre-register by calling 270-924-2007.  Permethrin insect repellant will be provided; however, participants are encouraged to bring a water bottle, their lunch, sturdy boots, and work gloves with them. 
"Volunteers are very important to public lands, and we welcome anyone who is interested.  This is a wonderful way to meet other outdoor enthusiasts and learn more about LBL and other volunteer opportunities that are available here," said Emily Schmadeke, Volunteer Coordinator with "Friends of LBL."
For more information, contact Emily Schmadeke at 800-455-5897 or 270-924-2007, or by email at or Kyle Varel at 270-924-2031 or email at , and make plans for a rewarding day in LBL. 
Additional volunteer opportunities at LBL include the Adopt-A-Trail Program.  For volunteers who have an interest in equestrian trail riding at LBL, there are several areas of LBL's trails now available for adoption!  For more information, contact Emily Schmadeke at the number above. 
Visitors can also join in National Trails Day fun with a Day Helping Hands Hike.  Stop by the Nature Station between 9:00am and 1:00pm to find out what trails need the most attention, pick up some litter bags, and learn about what wildlife you might see on your hike. Bring your trash back to the Nature Station at the end of your hike and receive a prize as a token of our gratitude.  Call 270-924-2299 for more details.
About Land Between The Lakes
Land Between The Lakes is managed by the Forest Service, U.S. Department of Agriculture, in partnership with "Friends of LBL," to provide public lands outdoor recreation and environmental education. We encourage visitors to review our website at www.lbl.org each season, and throughout the season, for our Calendar of Events, updates on programs and policies, safety information, and temporary trail and road closures. Additional LBL and "Friends of LBL" information is also available on our website or by calling 1-800-LBL-7077 or 270-924-2000.
Sections
Events
Topics
Bikers, Friends of LBL, Hikers, Kyle Varel, Land Between the Lakes National Recreation Area, LBL, National Trails Day, Nature Station, U.S. Department of Agriculture, U.S. Forest Service