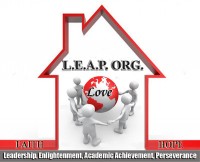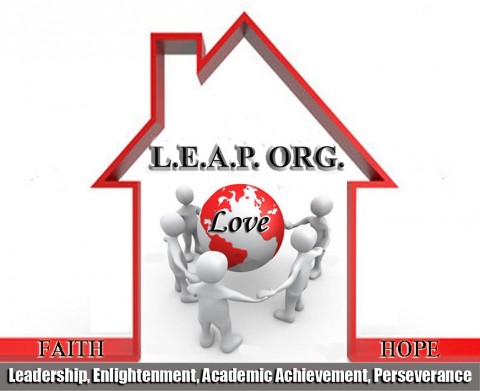 Clarksville, TN – June 8th, 2011 marked the day when 4 youth prospects successfully met the requirements to earn the title of LEAP Intern. The students were taken on the 7 Points Quests which consisted of a 6 weeks orientation process where they learned the true meaning of Leadership, Enlightenment, Academic Achievement, Perseverance, Outreach, Responsibility and Growth.
After Reverend Brown opened the ceremony with prayer, Valerie Armstrong, one of the original LEAP Interns recited a poem by Marianne Williams that addressed "Our deepest fear is not that we are inadequate…" and went on to describe how "As we are liberated from our own fear our presence automatically liberates others"
Founder, Richard "Reason" Garrett, had this to say about the ceremony, "It meant a lot having both Valerie and April Ogburn participate in the graduation ceremony." Both Valerie and April had received scholarships for graduating at the top of their orientation class in 2009. So often once people graduate from something they never return to contribute to the advancement of those who come after them. I am very optimistic about this new group of interns who started off as 4 individual points who have come together as line brothers and sisters."
Each week the prospects were given assignments based on various sections from the LEAP handbook to memorize, interpret, and then give an oral presentation the following week. Having started the journey with 8 prospects, Stephon Jenkins, Shiniqua Darrett, Stacey Jenkins, and Daquan Orebo were able to persevere through the assignments and team building exercises to discover that "When it seems dark, take time to remember where the match burns bright" in addition to "United we stand and together achieve true liberty."
Although each Intern worked diligently during the 7 Points Quest, one's effort and consistency stood out among the rest. Shiniqua Darrett completed the quest at the top of her class and will be receive a scholarship during LEAP's Annual Back to School Basketball Tournament on July 16th at the Emmanuel Family Life Center.
With its second line of Interns having crossed over, LEAP is preparing for 13 new prospects to begin their 7 Points Quest once in the next few weeks. The organization is always looking for personal and small groups mentors to assist with the development of these bright young interns to encourage them to be productive and responsible citizens.
For any interested in becoming a mentor or enrolling a student in the LEAP Intern Program please call 931-245-6922 or visit www.leaporg.net where we are LEAPing for success through Faith, Education, and Outreach.