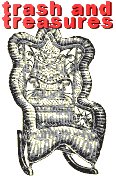 Cross Plains, TN – Trash and Treasures celebrated its 25th Anniversary this year. This yard sale extravaganza  takes place in Cross Plains, a small town on Route 25 East, about 15 miles from Springfield. If you've never visited the town, you don't know what a great time you've missed.
On Friday and Saturday during the last weekend in June, the town becomes a yard sale junkie's paradise. Up and down both sides of the main street of Cross Plains are scores of yard sales with everything from furniture to tiny collectibles.
You can find wooden ironing boards, toys, clothing, books, glassware, flowering plants, sorghum, canned jams and jellies, antiques, lemonade, bird houses, mounted deer heads, knives, lamps, cars, pedal cars, old and new tools, dishes, crystal, jewelry, handmade cards, stationery, barbecue, baked goods, and almost anything else you can think of!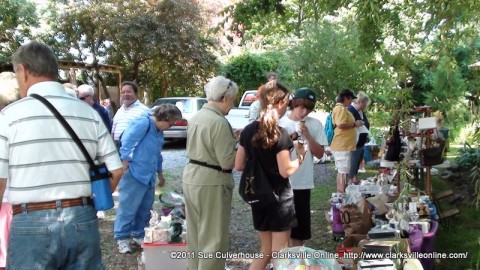 My friend, Kathy Mayo, and I found a convenient parking place right away near the center of town—no charge for parking either!
We went down one side of the street and back up the other to eat lunch just before noon.
Then there's lunch at Thomas's Drug Store.  The drug store is open for lunch until 2:00pm. It is a popular place, not only for the great food and fast service, but it has a public bathroom too. Just be patient because you'll have a short wait in line both for the rest room (yes, there's only one!) and to get a table for lunch. It's well worth the short wait!
This icon of pharmacies has an old-fashioned soda fountain where you can get the world's greatest chocolate shakes and real hamburgers with all the trimmings. They also serve all kinds of other sandwiches and banana splits that are so full of trimmings, you have to wonder how it keeps from toppling out of the dish. Thomas's Drug Store has all the décor of its 1930 origins. The shelves in the glass counters are full of unusual items you won't find anywhere else. The pharmacists rule from an elevated platform in the back but also have a drive-up window next to the side street just like most modern day pharmacies.
Trash and Treasures is a family day with extras. Some people ride golf carts around town so that they have room for all their loot. You see baby carriages and rolling walkers too.
People are friendly and give you great deals. We even ran into Ms. Cheap (Mary Hance) of newspaper and television fame. She was checking out the bargains just like we were. She's a lovely person—down-to-earth and she's truly looking for a great buy! She always features Trash and Treasures as one of her favorite destinations too.
On Friday Cross Plains' own Bill Cody broadcasts live on WSM-AM.
The best shopping Kathy and I found was in an area near the post office right in the center of town. First, we were dazzled by a red BMW convertible—only $9,200—at the entrance to this shady nook; unfortunately, we didn't have that kind of cash in hand or we would have driven this gorgeous car with only 60,000 miles on it home—too bad! Then two guys had boxes and boxes of small items for sale, most of which was from 50 cents to a couple of dollars each! What a find! That's where I bought most of what I purchased. A few genuine antiques—like china pin cushion dolls—were more that two bucks, but they were still well worth more than was being asked.
This year I bought some old toy soldiers, concho button covers, hand carved animals, a small clay pig on a rolling cart with cast iron wheels, some handmade greeting cards, and an Indian pottery vase. I spent less than $20.00 on the entire collection.
Down the street a woman was selling "popcorn" blouses. This was a new term for both Kathy and me. You'd have to see it to understand what the term means but it refers to the rather puckered material from which the clothing is made. They were definitely different.
Other people were selling all kinds of handmade aprons, wall hangings, bibs, and crafts.
The amazing weather this year made Trash and Treasures especially pleasant. An almost constant breeze made it possible to enjoy the day because although you were warm, you could feel air moving most of the time. A few civic groups and churches were giving free bottles of water to help you keep hydrated—or you could buy water or soft drinks from various vendors.
Trash and Treasures is one of those events you need to put on your calendar every year. Take along a tote bag for all the goodies you'll find and wear a hat if you're bald. Most vendors are in the shade but some are in the sun so you might want to wear sunscreen if you have a tendency to burn.
If you can't make it for Trash and Treasures, just drive over to Cross Plains any day of the week (stores closed on Sunday, of course).
It's well worth the trip.
Photo Gallery
About Sue Freeman Culverhouse
Author of Tennessee Literary Luminaries: From Cormac McCarthy to Robert Penn Warren (The History Press, 2013) Sue Freeman Culverhouse has been a freelance writer for the past 36 years. Beginning in 1976, she published magazines articles in Americana, Historic Preservation, American Horticulturist, Flower and Garden, The Albemarle Magazine, and many others. Sue is the winner of two Virginia Press Awards in writing.

She moved to Springfield, Tennessee in 2003 with her sculptor husband, Bill a retired attorney. Sue has one daughter,  Susan Leigh Miller who teaches poetry and creative writing at Rutgers University.

Sue teaches music and writing at Watauga Elementary School in Ridgetop, Tennessee to approximately 500 students in kindergarten through fifth grade. She also publishes a literary magazine each year; all work in the magazine is written and illustrated by the students.

Sue writes "Uncommon Sense," a column in the Robertson County Times, which also appears on Clarksville Online. She is the author of "Seven keys to a sucessful life", which is  available on amazon.com and pubishamerica.com; this is a self-help book for all ages.

Web Site: http://culverhouseart.com/
Email:
Sections
Area
Topics
Antiques, TN