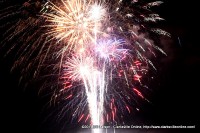 Cumberland City, TN – Last night, Cumberland City held a their annual Lighting Up the Cumberland event which serves as the official 4th of July celebration for Stewart and Houston Counties.
The event has a festival feel with arts and craft vendors and food merchants lining both of the main roads through this small Middle Tennessee city.
Small town charms abound such as a local politician who was on hand giving away free glasses of ice water or lemonade to the attendees.
Porter's Battery established a Civil War camp and between canon firings instructed visitors on the history of our area . After one of the canon blasts, a woman nearby exclaimed, "I am 55 years old and this is the first time I have ever seen a canon firing in person."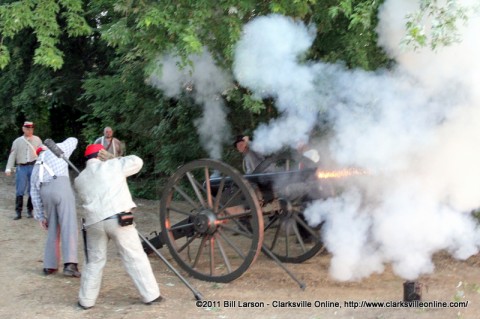 Other fun events included a tractor and antique engine show, and a Motorcycle and Car Show.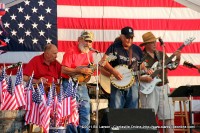 The Live music kicked off at at noon and continued until the first firework shell was shot off just before 9:00pm, to warn people of the impending light and sound extravaganza. The group Cumberland River Review had people young and old dancing in the streets to their mix of Bluegrass and Country music.
Over $15,000 worth of fireworks were fired off into the dark summer sky from an Ingram Barge Company barge that was tied off on the far side of the river. I always love fireworks shows that take place over water; it seems to enhance the sound of the blasts. The reflection of the lights on the water was also quite beautiful.
The best part about the event is the price of admission, which is totally free. The cost of the fireworks are funded solely through donations. Cumberland City puts on a spectacular Independence Day Celebration. If you have never been, it's well worth the trip. Come out for a day filled with delicious food and great music and best of all ends with a bang. Hope to see you there next year!
The City of Clarksville's 4th of July Festivities kick off on July 3rd at 6:00pm. The musical lineup includes Tina Brown, Chris Robertson, and closing out the evening is Country Star John Anderson.
Fort Campbell's awesome show will be held on Independence Day and it is more than worth the trouble of getting a visitor's pass. You must present a valid drivers license and proof of insurance. Everyone over the age of 16 must also present an id to get on the Army post. Come out early to get a great spot, and to fully enjoy the fair, and free concerts featuring Laura Bell-Bundy and Jacob Lyda.
Videos
Porter's Battery
Cumberland River Review
Fireworks
Photo Gallery