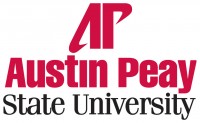 Clarksville, TN – The Center for Extended and Distance Education at Austin Peay State University will offer American Sign Language (ASL) this fall.
Under the instruction of a deaf instructor, the ASL classes offered at APSU will include the art of finger spelling, ASL grammar and vocabulary, as well as an exploration of deaf culture. Classes will meet from 6:00pm–8:00pm, Tuesdays. Part I will meet September 13th–October 18th and Part II will meet October 25th–November 29th.
Course fee for each class is $193.00, including textbook and supply fees. Registrations made 15 days or more before the start date of the class will qualify for a 10 percent discount on the course fee, a savings of $12.30 per class.
ASL is a complex, complete language that uses signs made with the hands, body movement, gestures, facial expressions and posture of the body to represent words. According to the National Institute on Deafness and Other Communication Disorders, it is the first language of many deaf North Americans and is one of several communication options available to the deaf.  Today, ASL is the fourth most commonly used language in the U.S.
American Sign Language is not English portrayed through signs. Linguistically, ASL actually has more in common with spoken Japanese. It is a complex, visual-spatial language with all of the fundamental functions of a spoken language: a rule-driven, grammatical symbol system that changes over time and that members of a community share. It has its own punctuation, syntax and sentence order. ASL even changes regionally just as English speakers may pronounce words differently in different parts of the country.
ASL is capable of expressing subtle, complex and abstract ideas as well as spelled words and is the strongest link to deaf culture among the American deaf community. Because the deaf community has its own language, ASL creates a cultural framework in which deafness is not a disability.
Interest in ASL has grown over the past 10 years with many churches and organizations now routinely providing ASL interpretation for their services, meetings and functions. Signed music is commonly included in church services, concerts and professional performances. ASL interpreters and translators are often hired to serve the more than 1 million people using ASL in the U.S. today.
For additional information, contact the Center at 931.221.7816 or email exted@apsu.edu.