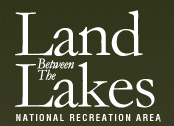 Golden Pond, KY – Land Between The Lakes (LBL) National Recreation Area is excited to announce that the magical sound of "bugling" has been reported at the Elk & Bison Prairie (EBP). The bugle, which actually sounds more like a loud squeal, is the mating call of the mature bull elk.
"We recently heard a few bugles, and the best is yet to come!  The peak of bugling season usually occurs from mid-September to mid-October," said Curtis Fowler, LBL Range and Wildlife Technician. "The bugling season is one of the most exciting times to be in the prairie at LBL."
Since elk were introduced into the 700-acre prairie in February 1996, biologists eagerly anticipate the start of "bugling season" each fall. "The EBP is home to 40 elk, including 11 bulls, 17 cows, and we're proud to announce the birth of 12 healthy elk calves. There are also 47 bison living in the prairie," said Curtis Fowler, LBL Range and Wildlife Technician.
Visitors to the prairie have the best chance of hearing the unusual bugling sound and seeing the elk calves late in the afternoon. Those driving through the prairie are encouraged to stop at the prairie's interpretive stops or along the road, turn off their vehicle engine, and listen for 15-20 minutes for the sounds of elk and other wildlife while remaining in their vehicle.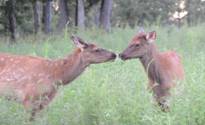 It is important to remember elk and bison are wild animals–they should not be approached and should be given plenty of space if they begin to approach your vehicle. If large animals are nearby, remain inside your vehicle. Please do not attempt to feed them or coax them to come close to you. Also, do not leave your vehicle to take a closer look at the animals–this is very dangerous and causes the elk to run out of view, spoiling the experience for other visitors. By observing EBP rules, everyone can enjoy a safe visit!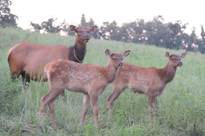 LBL's herd started in 1996 with wild elk received from Elk Island National Park in Alberta, Canada.  Over the years LBL's thriving elk population has been closely monitored for diseases while maintaining the animal's wild identity so that they can be reintroduced into the wild.  Since February 2001, 90 elk from LBL have been used for elk reintroduction in the mountains of North Carolina and Tennessee.
The EBP is open seven days a week, from dawn to dusk.  The prairie features a 3.5-mile paved road and interactive interpretive stops from which visitors can view wildlife and learn more about this native habitat.  Prairie passes cost $5 per vehicle and are available at the EBP entrance or any LBL facility.
About Land Between The Lakes
Land Between The Lakes is managed by the Forest Service, U.S. Department of Agriculture, in partnership with "Friends of LBL," to provide public lands outdoor recreation and environmental education.  We encourage visitors to review our website at www.lbl.org each season, and throughout the season, for our Calendar of Events, updates on programs and policies, safety information, maps, and temporary trail and road closures. Follow us on Twitter @LBLScreechOwl and on our blog at http://landbetweenthelakes.blogspot.com/. Additional LBL and "Friends of LBL" information is also available on our website or by calling 1.800.LBL.7077 or 270.924.2000.