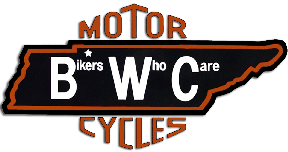 Clarksville, TN – Over the past few days hundreds of friends and family gathered to bid  farewell to Tim Stone and Jim Wall, Jon and Katy Over and Allison Bagwell-Wyatt in four separate funerals.
The Bikers Who Care opened the doors to their club house and welcomed anyone who wanted to ride together to the funerals for the BWC 5. The long line of motorcycles and a few cars made an impressive arrival as the bikes rode in for each service.
After rumors of Westboro Baptist Church planned to protest a couple of the funerals, several local supporters gathered with signs supporting the Bikers Who Care and ready to block and drown out the protesters.
However, the Westboro Baptist Church never made it to the funeral homes to cause any disruptions. Some say they were not able to leave their hotel.
The first four took their last ride in a  motorcycle drawn hearse that was brought in from Cookville, Tennessee. Bikers Who Care and the other motorcycle clubs gathered escort their fallen brothers and sisters.
Police blocked each intersection along the route to the cemetery. People stood along the road as the procession passed, some held signs of support for the deceased and their families.
It was very touching to see how the community can come together in the time of need to support the family and friends. Most never had the opportunity to meet these fine men and women, however they still took the time to come out and pay their respects.
There were 12 children left behind that have lost one or both parents. Planters Bank has set up a fund to assist the families. The accounts are titled Bikers Who Care or the Benefit of the _______ family or just a general account that will be divided equally between the families if your not sure who to donate to.
Donations can be made at any branch of Planters Bank for  Jonathan Michael Over,  Kathryn Elizabeth Over, Timothy Bryan Stone, James Franklin Wall II, and Allison Elizabeth Bagwell-Wyatt.
Photo Gallery
About Roland Woodworth
My name is Roland Woodworth, a professional REALTOR® with the experience & knowledge to assist you with all your real estate needs. My main area of focus is Clarksville TN , Oak Grove KY and the surrounding areas. I have over 12 years experience in the Real Estate industry and I'm a full time Realtor licensed in both Tennessee and Kentucky. I'm also a NAR Certified Short Sale & Foreclosure Resource.

I moved to Clarksville while stationed in the US Army at Ft Campbell, KY in 1992. I have been in sales in the area since 1996. I received my Real Estate license in 1999.   I have been involved in many community organizations including the Clarksville Area Chamber of Commerce where I was a Chamber Ambassador for 5 years. I was the Fair Chairman for the 2002 North Tennessee State Fair in Clarksville, TN, and also president of Fair Inc which is the governing board consisting of members of the Clarksville Jaycees, City of Clarksville and Montgomery County. I'm  also a member of the Clarksville Jaycees Volunteer Col. Corp. a past member of the Clarksville Jaycees and the Downtown Kiwanis Club. I participated in the 2005 and 2009 Clarksville Extreme Makeover Home Edition builds here in Clarksville – Montgomery County.

Web Site: http://www.ClarksvilleHomeInformation.com
Email:
Sections
News
Topics
Allison Elizabeth Bagwell-Wyatt, Bikers who Care, BWC, Clarksville Fire Department, Clarksville Police, cookeville TN, James Franklin Wall II, Jonathan Michael Over, Kathryn Elizabeth Over, Planters Bank, Timothy Bryan Stone, Westboro Baptist Church