Written by Spc. Shawn Denham
PAO, 2nd Brigade Combat Team, 101st Airborne Division (Air Assault)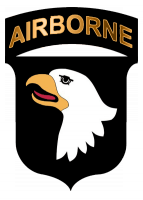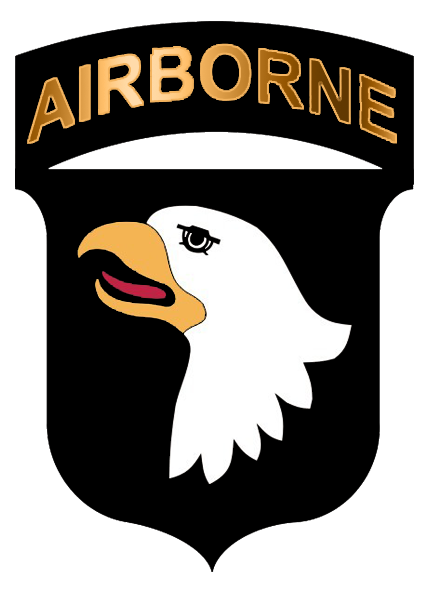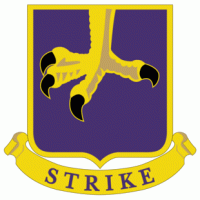 Fort Campbell, KY – Most Soldiers expect to deploy at least once within their time in the Army. Two, maybe even three deployments are somewhat common for today's Soldiers as well, but then there are the others who have deployed more times than this.
Soldiers assigned to the 2nd Brigade Combat Team, 101st Airborne Division (Air Assault), who served during four deployments with the Strike Brigade, were recognized at Strike Academy earlier this month by Maj. Gen. James McConville, commander of the 101st Airborne Division.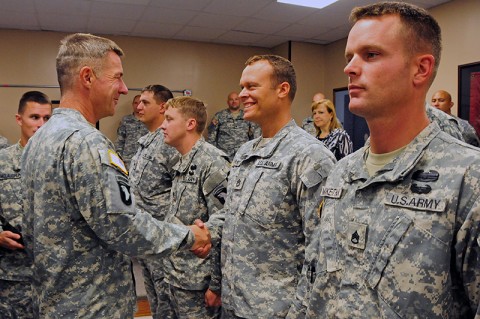 McConville commended 12 Soldiers who had went with Strike to places like Mosul, Iraq, Baghdad twice and most recently Kandahar, Afghanistan. McConville then awarded Division Challenge Coins to the select group and thanked them for their service to their country, the Strike Brigade and the 101st Airborne Division.
"We knew everyone would do one tour," said McConnville. "We thought that most [Soldiers] would do two, but when it came to three we thought it'd be a real challenge. But then we see folks like you who did four tours; that's just a tremendous sacrifice.
McConville encouraged the Soldiers to thank their families for the support they showed during these multiple times of separation and encouraged the Soldiers to be proud of their history.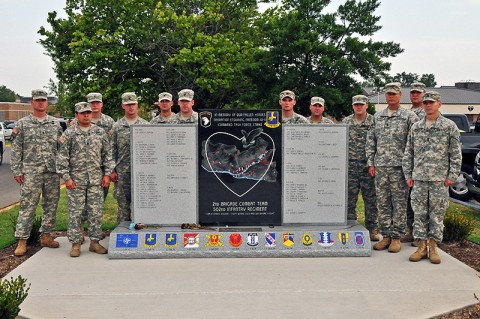 "We have a great history in this division," said McConville. "[Strike Brigade has] a very proud history too and you are a part of that history."
During Strike Brigade's previous deployments to the Middle East, the unit was exposed to heavy kinetics. During Strike Brigade's most recent deployment to southern Afghanistan, Soldiers were tasked with establishing security and governance in that part of the world, which was the birthplace of Taliban and its stronghold. Gen. David Petraeus, ISAF commander, at one point even called Strike, "The Tip of the Spear" in the War on Terror.
"We did something great," said Sgt. 1st Class Christopher Dorsey, one the Forward Operating Base designers and builders with Strike's Headquarters and Headquarters Company. "We basically started with nothing and made something at FOB Pasab. It makes me pretty proud to be with this group."
Fallen comrades from previous deployments were being missed during today's ceremony, Dorsey said.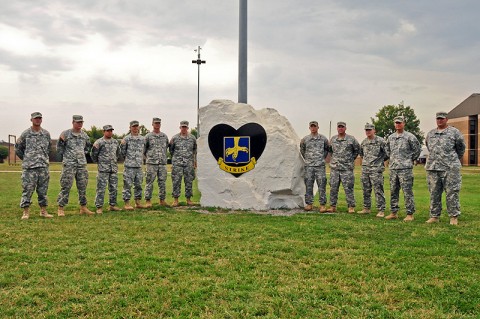 Some recognized by the division commander have served in the same battalion during the their four-tours and enjoyed the appreciation.
"It's nice for everybody to be recognized" said Sgt. 1st Class Ryan Wawryk, whose been with 1st Battalion, 502nd Infantry Regiment for each of his deployments. I have three tours in Iraq and one in Afghanistan; All with the first of the 502nd [Infantry Regiment]."
McConville shook each hand of the four-tour vets and is grateful to have such dedication within his ranks.
"We're very proud to have folks like you in our division that are willing to do these types of things and I thank you and your families," said McConville.