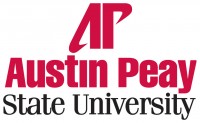 Clarksville, TN – Service learning in the classrooms is gaining acceptance in higher education as a way for students to help the community using the knowledge learned. One class is doing just that this semester.
For 30 minutes every Friday in the Dunn Center, students in the adaptive physical education course teach basic sports and fitness skills such as throwing and catching to clients of varying disabilities in the Progressive Directions Inc. program, which provides mental retardation services in Montgomery and Stewart counties.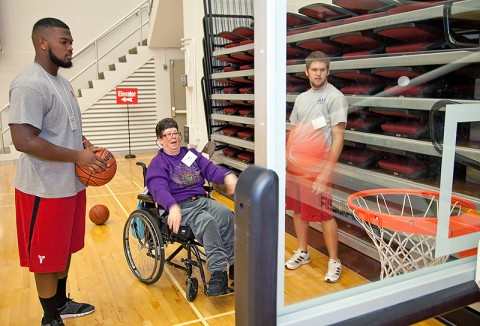 Dr. Lisa Lewis, associate professor of health and human performance, said the weekly sessions are part of a "bridge program" that her students, all of them physical education majors, must complete.
"They learn theory and application, and then get involved in the community with what they know," Lewis said. "These students, when they graduate, will be working with individuals with disabilities, so they need to apply what they have learned so far."
During their sessions, the clients spend a few minutes at each of 10 stations with activities designed to help them improve their physical skills. For instance, at the basketball goals, APSU students work with the clients on their throwing, shooting and dribbling skills. Other stations promote striking, catching, kicking, rhythm and dance.
Lewis said these activities help not just her students, but the clients with Progressive Directions as well.
"We had one man who was afraid of the basketball. After working with him, he now can dribble the ball, and he's not afraid to do so," she said.
For more information, contact Lewis by telephone at 931.221.6115 or by email at .