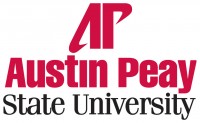 Clarksville, TN – The taxi, a dust-covered Toyota Range Rover, sped down what could only loosely be called a road in the remote wilderness of Tanzania. Austin Peay State University art professors Cindy Marsh and Jennifer Snyder sat in the back seat, bracing themselves for a crash.
"We were going at crazy speeds," Snyder said. "People were diving out of the way. They were shaking fingers and yelling at our driver to slow down."
At one point, the women saw an explosion of chicken feathers fly up over the hood. After four hours of this manic drive, which followed a 20-hour plane ride to Africa, the two professors reached their destination – the small village of Mnenia. That's where they spent the next 10 days, sleeping in huts without running water or electricity, and making art with a group of local women.
At 5:00pm on October 12th, the two professors will share their adventures in Africa at the APSU Center of Excellence for the Creative Arts' Fall Salon Series, at the Clarksville-Montgomery County Public Library. The event is free and open to the public. The Center hosts the Salon Series once a month during the fall and spring semesters, featuring distinguished local artists and arts organizations, followed by refreshments and good conversations.
Earlier this year, Marsh was awarded one of the University's summer research fellowships, which provided her with $5,000 to go study papermaking in Africa. Marsh, who specializes in creative printing and illustration, artists' books and printmaking, had struck up a correspondence with a Finnish expatriate printmaker living in Tanzania. He owned an art gallery in the city of Arusha, and she decided to go see what he was doing. Snyder, an assistant professor of art education at APSU, was eager for a little adventure this summer so she tagged along.
What they found was a more primitive experience than they anticipated. Their host led them into the remote bush, where he taught art classes and worked to preserve ancient cave paintings.
"I would call him a Hemingway-type," Marsh said.
She joined him in working with the Twiga Women's Collective, in the village of Mnenia, to make paper out of indigenous materials. Then, Marsh provided the women with wood-block type, from APSU's famed Goldsmith Press, to create autobiographical art creations on this paper. The works were bound into a book, now on display at the art gallery in Arusha. And all the women who participated received a copy of the print they created.
"It's an ongoing project we're hoping to turn into a study abroad trip for the summer after this one," Snyder said.
During the October 12th salon, both women will relate their different experiences in Africa and the insights they gained from the village, working with the women and going on a safari in the Serengeti Wild Animal Preserve.
For more information on the salon, contact the APSU Center of Excellence for the Creative Arts at 931.221.7876.