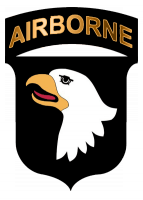 Fort Campbell, KY – Cool temperatures, Wind and Rain could not keep family and friends away Wednesday afternoon as 190 soldiers with the 129th Combat Sustainment Support Battalion returned to Campbell Army Airfield after a year long deployment to Afghanistan.
The large crowd gathered inside Hanger 3 as they waited for the announcement that their soldiers were 15 minutes away before heading outside to watch the plane as it made its way to the tarmac.
As soldiers made their way off the plane, you could hear the excitement in the air as cheers and shouts from the crowd as friends and family spotted their soldier as many held signs, took photos and some video to remember this special day.
Once inside Hanger 3, Major General James C. McConville welcomed everyone home in a brief Welcome Home speech.
Afterwards, soldiers were allowed 15 minutes of family time before heading back to their unit to turn in their gear.  As soldiers were released, the hanger floor was quickly covered with people as family and friends looked for their soldier during.
SFC Victoria Mace was welcomed home by her son Hunter Mace, Parents Hong & Bobby Mace and her sister Jennifer Bradley along with her children Gage, Chloe and Tori Bradley.
There are still more soldiers over seas that will be heading home soon. If you wish to attend a Welcome Home Ceremony, check the flight schedules online, as times are subject to change at anytime. When arriving to Fort Campbell, enter via Gate 7; if you don't have installation stickers on your vehicle, you will be required to get a visitor pass. From there just follow the signs to the ceremony parking. Waiting buses transport family members safely to the hanger.
Photo Gallery