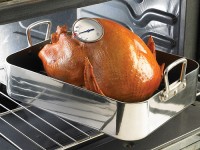 Most families have traditions for Thanksgiving and Christmas including what to eat. Isn't it time you tried a couple of new recipes to add to the feast?
Here are a few tried and true recipes that I've gleaned from friends and relatives over the years. All are easy to make and don't require hours to prepare!
Liz's Best Appetizer Ever
This appetizer is a hit and is so easy to make. Serve it with either small toasted French bread slices or crackers.
1/3 Vidalia (or sweet) onions diced very small
1/3 Hellman's mayonnaise
1/3 grated or shredded Swiss cheese
Just mix these three ingredients together in an ovenproof dish. Heat at 400 degrees until bubbly. (Start checking after 20 minutes.) Serve hot. That's right. It is equal portions of each of these items—your choice of whether it's two cups each or any other amount. I suggest making a large amount because people become addicted at first bite.
(The first time I ate this was at a faculty Christmas party. It was so good I made my dinner on it! Every time I take it to a potluck dinner, people ask for this recipe and can't believe it's so easy.)
Fruit Tea
1 large can of pineapple juice
1 can of frozen lemonade
2 cups of orange juice
Pour these three ingredients into a two-gallon jar and fill to the top with tea. Instant bliss!
Calypso Bean-Corn Salad
Choose three or four kinds of canned beans or peas (pinto beans, black-eyed peas, crowder peas, black beans, etc.) Drain and place in a mixing bowl.
1 can drained chick peas (These are a must.)
1 can drained sweet yellow corn (not creamed style)
Add either minced onion or diced fresh onion to taste.
Season with salt and pepper.
Mix with a sweet creamy Italian dressing to taste.
Chill before serving and enjoy!
Reputed to be Olive Garden Salad Dressing
(Gleaned from the Internet in several locations)
½ cup mayonnaise
1/3 cup white vinegar
1 teaspoon vegetable oil
2 Tablespoons corn syrup
2 Tablespoons Parmesan cheese
2 Tablespoons Romano cheese
½ teaspoon Italian seasoning
½ teaspoon parsley
1 Tablespoon lemon juice
Mix together and pour over fresh greens, sliced Roma tomatoes, black olives, croutons, and whatever else you like in your salad. This dressing also works great over the Calypso bean salad above!
Roy's French Coconut Pie
3 eggs
1½ cup sugar
1 stick margarine (melted)
1 teaspoon vinegar
1 teaspoon vanilla
1 package coconut
Mix all ingredients together and pour into an unbaked pie shell. Cover edges of the crust with aluminum foil until the last 10 minutes. Bake at 350 degrees F. for about 50 minutes or until a knife comes out clean when inserted in the center of the pie. Serve hot or cold.
My Grandmother's Prune Cake
2 cups plain flour
1½ cups white sugar
1 teaspoon baking powder
2½ teaspoons baking powder
1 cup cooked prunes (more if you want!)
1 cup pecan bits
1¼ teaspoon cinnamon
1¼ teaspoon nutmeg
1¼ teaspoon allspice
1 cup vegetable oil
3 beaten eggs
1 cup buttermilk
½ teaspoon salt
Mix all ingredients together and place in a 9" by 13" baking pan. Bake for 45 minutes (or until a toothpick comes out dry when inserted in the center of the cake) at 350 degrees F.
This cake does not require any icing because it is so good as it is. If you insist on icing it, use a sweet glaze or some caramel icing.
WARNING: This cake is very moist and delicious. Be sure to remind your guests that it contains prunes and that eating too many pieces in one day can have consequences with your digestive system! (They'll keep eating it anyway, but at least, you've warned them.)