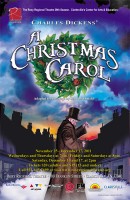 Clarksville, TN – This week the Roxy Regional Theatre will be staging the last few runs of their production of the Charles Dickens classic tale, A Christmas Carol. There are a few things that tell me Christmas is coming each year; the lighting of Christmas on the Cumberland, Downtown for the Holidays and the Christmas parade, and the Roxy's wonderful annual rendition of this timeless Christmas story.  This week is your last chance to catch this heartwarming show.
The play features John McDonald as Ebenezer Scrooge, and follows him as he meets the spirits of Christmas Past, Present and Future while rediscovering the true meaning of the Christmas season. McDonald is backed up by a stellar cast that includes: Ryan Bowie, Brianna Hertzberg, Travis Kendrick, Alan Lee, Brandon Meeks, Leah Sugerman and Joylene Taylor. These are some of the best professional actors the Roxy has ever played host to.
Bob Cratchet's children are played by a different group of area children for each production, and they add their own unique touches to their shows. This year they are: Colby Adams, Sydney Barksdale, Gavin Berlyak, Jesse Boyle, Addisyn Bryant, Nicholas Cavin, Hannah Collins, Kourtni Cottrell, Nathanel Dorminey, Whitney Flickinger, Scott Hall, Noah Holt, Truman Jepson, Sidney McCarty, Madeline O'Connor, Nathaniel Pittman, Liam Poland, Christian Rieke, Brooke Schauer, and David Snyder.
One of the fun touches is the seamless introduction of musical numbers into the play. Songs such as "A-Caroling We Go," "Silent Night," "Christmas Is Here," "Do You Know How Christmas Trees Are Grown" really bring the Christmas season to life.
This is a do not miss show, that will get you into the Christmas spirit if you are not already there!
A Christmas Carol runs through December 17th, playing Wednesdays and Thursdays at 7:00pm and Fridays and Saturdays at 8:00pm, with a 2:00pm matinee on Saturday, December 17th. Tickets are $20.00 for adults and $15.00 for children ages 13 and under. Do your self a favor and get down to the Roxy Regional Theatre in Historic Downtown Clarksville to see one of these last few shows!
The production is made possible in part through the generous support of Target.
Photo Gallery
Map