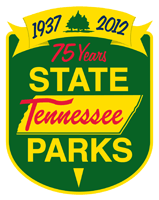 Nashville, TN – The year 2012 marks Tennessee State Parks' 75th Anniversary and to kick off this year-long commemoration, each state park will host its own special hike in the first few days of the New Year.
"We are very excited to announce Tennessee State Parks' 75th Anniversary and felt this series of First Hikes would be a fitting way to commence the various celebrations slated throughout the year and across the state," said Environment and Conservation Commissioner Bob Martineau. "Following the old Gaelic tradition of 'first footing,' the First Hikes are meant to encourage all Tennesseans to hit the trail and get 2012 started on the right foot."
From Meeman-Shelby to Fall Creek Falls to Roan Mountain and every state park in between, the 2012 First Hikes are designed for all ages and abilities. Some hikes will be approximately one mile in length and tailored for novice hikers, while others are lengthier and geared toward more experienced hikers.
For a more in-depth look into planned First Hikes in your area, please visit www.tn.gov/environment/parks/firsthikes/.
In addition to the First Hikes slated for early January, Tennessee State Parks will host a variety of special events throughout 2012 and has unveiled a specially-designed 75th Anniversary logo – reminiscent of the ranger uniform patches of yesteryear.
The Tennessee State Parks system was established through legislation in 1937, and those laws – with modifications and additions over the years – remain the framework for park operations today.  As in most states, Tennessee began in cooperation with federal programs that instigated individual parks. Later, Depression era recovery programs gave a boost to the idea and the possibility of creating parks. The Civilian Conservation Corps and Works Progress Administration worked on land conservation, but also delved further into the actual planning and construction of what would become the first of 53 Tennessee State Parks.
Today, there is a state park within an hour's drive of just about anywhere in Tennessee.  A 2009 University of Tennessee study highlights the positive economic impacts that state parks provide local communities, particularly in rural areas of the state. The study found that for every dollar spent on trips to Tennessee State Parks, an additional $1.11 of economic activity was generated throughout the state.  When the direct and indirect expenditures were combined, the impact of Tennessee State Parks to the state's economy was $1.5 billion in total industry output, supporting more than 18,600 jobs.
"Our vision statement highlights the inherent value of our natural environment, along with the value of the many physical reminders of Tennessee's past," added Deputy Commissioner Brock Hill.  "Tennessee's state parks have played such an important role in our history, and they play a critical role in our health and quality of life, which will benefit Tennesseans well into the future."
Tennessee's state parks deliver a rich fabric of natural landscapes, wild places, preserved ecologies, outdoor recreational opportunities and protected historic scenes and resources – together representing the heritage of Tennessee in the landscape.
About Tennessee State Parks
Tennessee's 53 state parks and 82 state natural areas offer diverse natural, recreational and cultural experiences for individuals, families or business and professional groups. State park features range from pristine natural areas to 18-hole championship golf courses. For a free brochure about Tennessee State Parks, call toll free at 1.888.867.2757.
For upcoming events in connection with the 75th Anniversary of Tennessee State Parks, please visit the state parks website at www.tnstateparks.com.