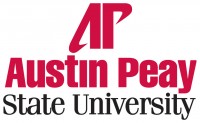 Clarksville, TN – Have you ever remembered something that you never actually experienced? Maybe it was the vivid terrain of a place you haven't visited, or the familiar smile of someone you don't know.

These strange recollections, arising from the millions of images we are exposed to on the Internet and television, fascinate the California-based artist McLean Fahnestock, and her new exhibit, "Republic of Champions," examines the public's collective memory, created by our constant exposure to images in the media.

"I seek out footage, images and items that tap into the collective memory – recalling events that I never physically participated in but because of constant exposure through the media, I have absorbed as my own," Fahnestock said. "I select imagery from journalism, news and sports, paying close attention to examples of competition in all arenas, from politics to family."

The exhibit opened January 12th on the website TERMINALapsu.org, a space sponsored by Austin Peay State University's Department of Art and the Center of Excellence for the Creative Arts to showcase and examine Internet and new media art. It runs through January 27th.

"The characters that populate pageantry and politics, from astronauts to ice-skaters, are just as real as they are fictionalized," she said. "I actively search for the points where things open up and a gesture becomes a tell. It is that moment, the slight failure that taints a triumph and creates a blemish that with time and picking does not heal but becomes a fissure into which I shine my flashlight."

Fahnestock's work has been exhibited in New York, California, Tennessee, Indiana, Ireland, Japan and Canada. She is the recipient of grants from the Hoff Foundation, Arts Council for Long Beach and the Durfee Foundation. 

Her "Republic of Champions" exhibit also begins a new phase for APSU's online gallery, with the introduction of the Terminal Physical Space.

"We have dedicated a portion of the Trahern lobby (on the APSU campus) to present video/sound/new media work by national and international artists," Barry Jones, APSU associate professor of art, said.

Viewers can now either go online to check out Fahnestock's work, or they can gather around a computer screen in the Trahern building to see the exhibit. Future TERMINALapsu.org exhibits will also be available in this space throughout the spring semester.

For more information on the artist or her online exhibit, contact Jones at .



Sections
Events
Topics
APSU, APSU Center of Excellence for the Creative Arts, APSU Department of Art, APSU Trahern Building, Austin Peay State University, Barry Jones, California, Canada, Clarksville TN, Indiana, Internet, Ireland, Japan, McLean Fahnestock, New York, Television, Tennessee