APSU Sports: Austin Peay Women's Tennis

Clarksville, TN – Austin Peay State University women's tennis fell 4-3 to Evansville, Friday, at the Governors Indoor Tennis Center.
The Lady Govs couldn't overcome dropping the doubles point and ended up one win shy on the singles side. Austin Peay falls to 0-3 overall, while the win improved the Purple Aces to 1-0.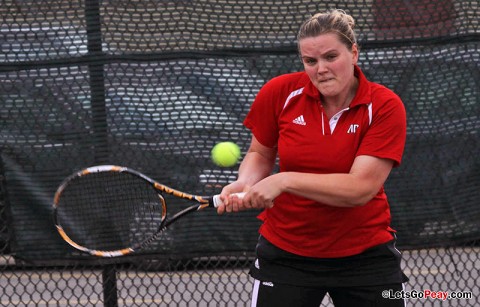 Freshmen Weronika Kurka and Ornella Di Salvo picked up Austin Peay's only doubles win, 8-5, at No. 2. The Lady Govs were on the cusp at Nos. 1 and 2, with the team of Vanja Tomic and Alison Carre falling, 8-6, while Vanessa Tavarez and Andra Cornea lost 8-5.
The Purple Aces carried the momentum into singles. Tomic picked up her season's first win at No. 1, defeating Dora Kotsiouo in straight sets. Meanwhile, at No. 3 singles, Di Salvo won a battle in three sets, dropping the middle set in the process. Sophomore Andra Cornea worked to a straight-set win at No. 5 singles.
Austin Peay has to regroup quickly as it hits the road for a 4:00pm, Saturday, match at Louisville.
Evansville 4, Austin Peay 3
Singles competition
1. TOMIC, Vanja (APSUW) def. Dora Kotsiou (UE) 6-2, 6-2
2. Aleks Dzakula (UE) def. CARRE, Alison (APSUW) 6-2, 6-2
3. Di SALVO, Ornella (APSUW) def. Emily Richardson (UE) 6-3, 5-7, 7-5
4. Natasha James (UE) def. KURKA, Weronika (APSUW) 6-4, 6-4
5. CORNEA, Andra (APSUW) def. Mina Milovic (UE) 6-2, 6-2
6. Gaby Fifer (UE) def. KARAK, Jovana (APSUW) 6-0, 6-2
Doubles competition
1. Dora Kotsiou/Natasha James (UE) def. TOMIC, Vanja/CARRE, Alison (APSUW) 8-6
2. KURKA, Weronika/Di SALVO, Ornella (APSUW) def. Gaby Fifer/Emily Richardson (UE) 8-5
3. Aleks Dzakula/Jessica Ratz (UE) def. TAVAREZ, Vanessa/CORNEA, Andra (APSUW) 8-5