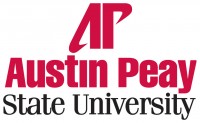 Clarksville, TN – Since May 1996, Amy Deaton has seen a countless number of students enter the admissions office at Austin Peay State University.
She started working at APSU almost 16 years ago as an admissions counselor, and today, she is now the University's director of admissions.
Deaton, of Clarksville, was named to her new post recently by APSU officials. Serving as interim director since August 2011, she said she is eager to help continue the enrollment growth seen in recent years at The Peay.
"I am looking forward to the opportunity to continue to lead the Office of Admissions in recruiting and admitting quality students to Austin Peay State University," Deaton said. "My goal for the Office of Admissions is to use technology to create a high-touch environment of customer service that enables students to reach their educational goals. It is a very exciting time at Austin Peay and I look forward to promoting our wonderful programs and contribute to the growth of this University."
After working as an admissions counselor for two years, Deaton was hired as the admissions manager at APSU. Then for the next eight years, from 2000-08, she became assistant director. Until mid-2011, she was the associate director before assuming interim director duties.
A native of Calvert City, KY, Deaton earned a Bachelor of Science in biology from Kentucky Wesleyan College in Owensboro and a Master of Science in health services administration from APSU.