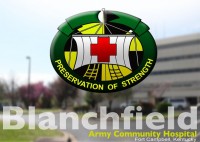 Fort Campbell, KY – Blanchfield Army Community Hospital (BACH) command and staff join Army Medicine worldwide in honoring patients and focusing on patient-centered care, access to care and customer satisfaction throughout Patient Recognition Month this February. "We Are Patient Centered" is the theme of this year's Patient Recognition Month.
Although patient recognition is celebrated nationally February 1st-7th as a week-long event, Army Medicine devotes the entire month to honor beneficiaries worldwide.
Planned Activities
BACH patients can enjoy free relaxing massages February 10th in the Patient and Family Medical Resource Center (PFMRC) from 11:00am until 2:00pm. on a first come, first served basis. The resource center is located on the 2nd floor of the hospital, next to the Laboratory.
BACH's commander Col. Paul R. Cordts will host a cake cutting ceremony for patients February 21st at 11:30am in the PFMRC.
BACH's Emergency Medical Services (EMS) staff will offer free car seat safety inspections Monday, February 13th from 8:00am until 4:00pm in front of the EMS Building 2575 at the corner of Screaming Eagle and Indiana Avenue.
Several BACH dieticians offered patients and staff heart healthy cooking tips, food alternatives and nutrition advice February 3rd on National Wear Red Day in the hospital's dining facility classroom. National Wear Red Day is set aside to raise national awareness about heart disease being the leading cause of death in women.
At the end of this month, appreciation cards will be handed to patients explaining important new contact information for the incoming TRICARE contractor that will begin serving Fort Campbell April 1st, 2012.
According to hospital commander Col. Paul R. Cordts, the 'We Are Patient Centered' theme fits nicely with BACH's everyday commitment to Soldiers, Families and Retirees.
"Our team at Blanchfield has embarked upon a system for health that places patients at the center. In this partnership, our medical team holistically addresses patients' health care needs–mind, body, and spirit, social and family fitness," said Cordts.
Over 70,000 patients are enrolled to one of BACH's primary care clinics, while the hospital offers services to over 109,000 eligible beneficiaries.
"As clinics convert their focus to the patient-centered medical home model of care, patient satisfaction and safety continue to be the number one priorities," said Cordts. "Army Medicine is committed to improving access and continuity of care. Saving lives and improving the well-being of our Soldiers and all Army Medicine beneficiaries continues to remain our focus."