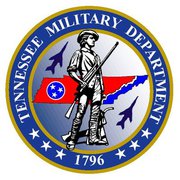 Nashville, TN – Col. Harry Montgomery, of Collierville, TN, was promoted to Brigadier General in ceremonies at the 164th Airlift Wing, Memphis, February 27th. Maj. Gen. Terry M. Haston, Tennessee's Adjutant General, named Montgomery Chief of Staff, Air, and he officially assumed command in the February ceremony.
Montgomery previously served as the commander of the 164th Airlift Wing in Memphis, and replaces Maj. Gen. Rita Works, who served as COS since 2008.  Montgomery was named as the Chief of Staff in December 2011.
Brig. Gen. Montgomery is a graduate of the University of Tennessee-Knoxville, receiving a Bachelor of Science degree in Agriculture in 1981.  Montgomery enlisted in the U.S. Navy in June 1974, and in 1978 he joined the Tennessee Army National Guard as a helicopter crew chief assigned to the 278th Armored Calvary Regiment in Knoxville, Tennessee. Upon graduation from the UT, he enlisted in the 134th Air Refueling Wing. He was commissioned in 1982.
Among his awards Brig. Gen. Montgomery holds the Meritorious Service Medal, Aerial Achievement Medal, two Air Force Commendation Medals, Army Commendation Medal, Air Force Achievement Medal, five Air Force Outstanding Unit Awards, four Combat Readiness Medals, and the Navy Good Conduct Award. Montgomery is a Command Pilot with over 8000 hours of experience currently flying the C-5.