APSU Sports: Austin Peay Men's Tennis

Clarksville, TN – Austin Peay State University men's tennis team will prime for the Ohio Valley Conference tournament, beginning Thursday, at the Sun Belt Shootout.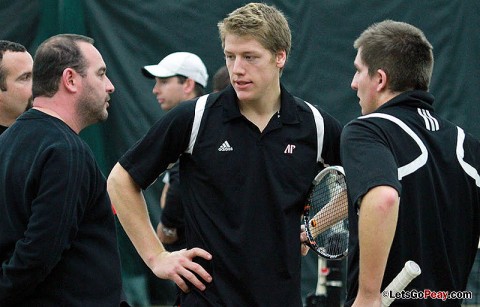 The Govs get started against host Middle Tennessee, 8:30am, Thursday. South Alabama, Georgia state, Florida Atlantic, DePaul and Southern Illinois make up the eight-team bracket. The shootout is set up to emulate a conference tournament with teams playing a dual-style match, with the winning team advancing through the eight-team bracket.
Austin Peay is coming off a shutout OVC win against Eastern Illinois which saw Sean Bailey win his fifth-straight match at No. 1 singles, and his sixth-straight match overall. Jasmin Ademovic, meanwhile, won a three-set match against the Panthers and Dimitar Ristovski won in straight sets.
One of the Govs strengths has been consistency at the bottom of the lineup. Aleksas Tverijonas has won three of his last five matches at No. 4 singles, John Storie has won four of his last five playing at Nos. 5 and 6, while Michal Hriciste also has started OVC play 3-0 at Nos. 5 and 6.
Perhaps the most important factor in dual-match tennis is on the doubles side. After all, doubles play starts the match and most likely sets the tone for the singles. Austin Peay has benefited from effective doubles through OVC play with a 5-1 league mark. In fact, the Govs are unbeaten in matches where they win doubles.
Bailey and Ristovski have been a consistent No. 1 doubles team, while Ademovic and Storie also have played well at No. 2.  Over the past two matches, freshman Iago Seffrin has teamed with Hriciste to play No. 3 doubles.