APSU Sports: Austin Peay Women's Track and Field

Clarksville, TN – Austin Peay State University women's track and field team took advantage of its home meet in recording more than 15 personal bests and setting a school record.
Tennessee Tech, Lipscomb and number of individuals competed at the APSU Invitational, Saturday, at Governors Stadium.
In her final attempt, senior Tanesha Campbell set the school record in the hammer throw breaching the 40-meter mark with a final distance of 40.01m. Campbell finished with only two official attempts – fouling twice – falling just short at 39.33m in her first throw.
Her 40.01m hammer distance is the eighth-best mark in the Ohio Valley Conference. Campbell also threw the discus for a personal-best 42.63m, a mark that stands as third-best in the OVC. Lora McKnight also had personal-best throws in the hammer (34.61m) and the discus (33.18)
"Tanesha had a real good day with the throws," head coach Doug Molnar said. "She's been working toward the 40-meter mark for a while and it's only matter of time before she really turns the corner. She also looked really good with the discus, so that's encouraging."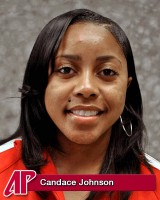 Candace Johnson had personal bests in the 200-meter and 400-meter dashes. She won the 200-meter dash at 24.84,  Austin Peay's fastest outdoor time this season. In the 400-meter dash, Johnson shaved more than two seconds off her most previous time, finishing second at 56.83. Chantelle Grey won the 400-meter dash at 55.74.
In the distance events, Janelle Avery and Xiamar Richards highlighted the Lady Govs efforts. Avery won the 800-meter run with an APSU season best time of 2:23.08, in her season's first attempt at the event. Richards, meanwhile, won the 3000-meter run with a 10:50.98 time, winning the race by more than 15 seconds.
"Overall, it was a successful day for us," Molnar said. "We set some PR's and did what we needed to do. I was impressed with our sprinters, especially Candace. For her to get under 25 seconds in the 200-meters is big for us. We need a couple of more up there with her."