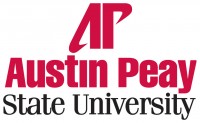 Clarksville, TN – In terms of landmass, the British Isles are only slightly larger than the state of New Mexico. But from this small group of islands off Europe's northwest coast there exists a rather rich musical heritage, with styles ranging from Irish folk music to the royal anthems of Renaissance-era England.
At 7:30pm on Friday, April 20th, the Austin Peay State University Chamber Singers and the University Choir will pay homage to that region's musical culture with the free concert, "Music of the British Isles," in the Music/Mass Communication Building's Concert Hall.
"All the music is meant to represent the Scottish, Irish, Welsh, Cornish and English poetry in music," Dr. Korre Foster, director of choral activities at APSU, said. "People should come to hear two things – music that is easily recognizable, like 'Danny Boy,' and music that is new and refreshes their ears."
The concert's program will include works such as William Byrd's 16th century "Oh Lord, Make Thy Servant Elizabeth," to more contemporary pieces, including John Travener's "Song of Athene," which was performed at Princess Diana's funeral.
Other works include the Cornish "I am the great sun," performed by the Chamber Singers, the Gaelic "Seinn O," the Scottish "Loch Lomond," the popular ballad "Danny Boy" and an interpretation of W.B. Yeats' poem "The Fiddler of Dooney."
"That one brings out a festive, Irish dance quality," Foster said.
The evening will include some "important instrumental additions" to the music, but Foster declined to elaborate, preferring to surprise the audience with these additions.
"This concert will be going on during the Rivers and Spires Festival, so it's another musical option for that weekend," he said.
For more information on the concert, contact Foster at fosterk@apsu.edu.