APSU Sports: Austin Peay Women's Tennis

Clarksville, TN – Austin Peay State University women's tennis defeated Eastern Illinois, 4-2, Friday, in opening-round action at the Ohio Valley Conference Women's Tennis Tournament.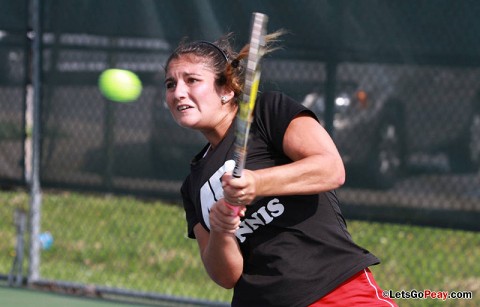 Freshman Ornella Di Salvo won the deciding match at No. 2 singles, after the Panthers had won singles matches at Nos. 5 and 6. Di Salvo teamed with sophomore Andra Cornea for a win at No. 2 doubles as well, helping Austin Peay win the doubles point to start the match.
"We struggled a little with our composure," head coach Malik Tabet said. "Winning the doubles point was big in helping us gain some momentum."
The doubles point came down to senior Vanja Tomic and freshman Alison Carre – a pair of first-team All-OVC picks – fending off a late-match rally by Eastern Illinois. The Lady Govs led 5-3, but the Panthers worked back to a 7-6 lead. Tomic and Carre tied it at 7-7 and traded games, leading to a tiebreak which they would win.
Despite watching Eastern Illinois win at Nos. 5 and 6, Austin Peay seemed to have control in singles play. Carre won a quick match at No. 3 singles, while Cornea also won at No. 4 singles. Those wins left only Di Salvo and Tomic on the court playing the top two matches.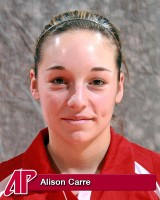 Austin Peay advances to face No. 1 seed Eastern Kentucky, 2:00pm, Saturday. The Lady Govs lost 6-1 to the Colonels less than a week ago in Richmond, KY. EKU won at Nos. 1 and 3 doubles, with Cornea and Di Salvo earning the Lady Govs only doubles win. Tomic will have a chance to avenge her season's only OVC loss, which came to eventual OVC Freshman of the Year Amandine Faouzi.
"We have to be better in doubles," Tabet said. "This is a match we really felt like we had a chance to win during the regular season so it's good to have another chance against them. We're going to have to be better than we were last week."
Austin Peay 4, Eastern Illinois 2
Singles competition
1. TOMIC, Vanja (APSUW) vs. PRISNER, Janelle (EIUW) 6-3, 4-2, unfinished
2. Di SALVO, Ornella (APSUW) def. WHITLEY, Merritt (EIUW) 6-2, 6-2
3. CARRE, Alison (APSUW) def. DIBBS, Amanda (EIUW) 6-2, 6-1
4. CORNEA, Andra (APSUW) def. KIM, Jennifer (EIUW) 6-3, 6-1
5. BOULBAHAIEM,Sephora (EIUW) def. TAVAREZ, Vanessa (APSUW) 6-4, 6-2
6. LAIRD, Kristen (EIUW) def. KARAK, Jovana (APSUW) 6-3, 6-2
Doubles competition
1. TOMIC, Vanja/CARRE, Alison (APSUW) def. PRISNER, Janelle/WHITLEY, Merritt (EIUW) 9-8 (7-2)
2. Di SALVO, Ornella/CORNEA, Andra (APSUW) def. BOULBAHAIEM,Sephora/LAIRD, Kristen (EIUW) 8-3
3. DIBBS, Amanda/EGAN, Annie (EIUW) def. TAVAREZ, Vanessa/KARAK, Jovana (APSUW) 8-6