Clarksville, TN – On June 20th, 2012 around 10:00pm, two masked men enter into the Chapala Market and Restaurant, 1191 Fort Campbell Boulevard. One of the men was carrying a shotgun and the other had a pistol.
The men demanded money from the three female employees that were present. One of the men fired a shotgun into the ceiling. At one point, the employees were directed to gather into an area and kneel down on their knees.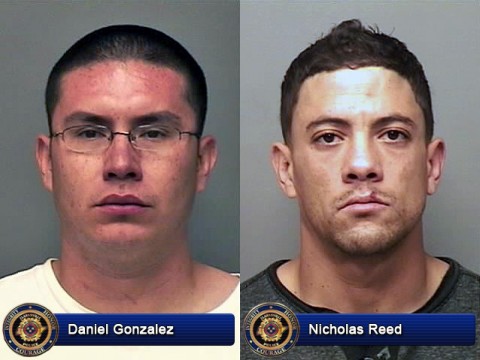 The men took the money from the business as well and purses and jewelry belonging to the victims before fleeing the store.
Clarksville Police followed leads and tracked down one of the suspects, Nicholas Reed, to his residence at 236 Orleans Drive. There was stolen property from the robbery found inside the residence.
Detective Eric Ewing spoke to Reed who admitted to entering the business with a handgun, in the company of another man, and leaving the store with items from the victim and placing them in his home.
Detective Ewing continued the investigation and developed Daniel Gonzalez as the other man involved in the robbery.  He also determined that Gonzalez entered the business with a shotgun, fired it while inside, and verbally ordering the employees.
Gonzalez was located at his Tandy Drive residence and taken in custody. When Detective Ewing interviewed Gonzalez, he also admitted to committing the robbery.
On June 22nd, 2012 around 8:30am Daniel Gonzalez and Nicholas Allan Reed were booked into the Montgomery County Jail.
The lead investigator is Detective Eric Ewing.
Daniel Gonzalez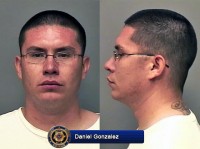 Name: Daniel Gonzalez (H/M)
DOB: 5/13/90
Given Address: 101 Tandy Drive, Apt A, Clarksville, TN
Arresting Officer: Peter Millan Jr.
Charged With: Aggravated Robbery
Booked Into: Montgomery County Jail
Bond: $250,000
Nicholas Reed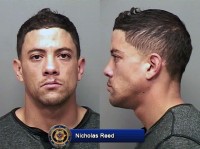 Name: Nicholas Allan Reed (W/M)
DOB: 4/15/79
Given Address: 236 Orleans Drive, Clarksville, TN
Arresting Officer: Scott Kirkman
Charged With: Aggravated Robbery
Booked Into: Montgomery County Jail
Bond: $51,000.