The 100th Meeting will be held at the Customs House Museum and Cultural Center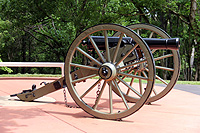 Clarksville, TN – Legendary Civil War historian, Edwin Bearss, will speak to the Clarksville Civil War Roundtable on Wednesday, July 18th, 2012 at 7:00pm at the Customs House Museum and Cultural Center in Clarksville, Tennessee.
The Customs House Museum is located at 200 South Second Street in downtown Clarksville, Tennessee. The program will take place in the museum's auditorium.
Mr. Bearss is the Chief Historian Emeritus of the National Park Service and is the most requested Civil War speaker and tour guide in the nation. Over the years, Bearss has spoken to thousands of history groups and has led thousands of tours of battlefields across the country.  He has also led tours for World War II in Europe and the Pacific Theater.
Mr. Bearss is a combat wounded Marine from the war in the Pacific. Due to his active schedule, Mr. Bearss is difficult to book for an appearance. As he nears his 89th birthday, Mr. Bearss shows no signs of slowing down. The Clarksville CWRT, and the co-sponsor, Customs House Museum, are very lucky to have him coming to town.
Mr. Bearss has appeared as a historian in the famous Civil War series by Ken Burns as well as the TV show Civil War Journal. He has also appeared on C-Span and other television events for the Civil War. Mr. Bearss is featured in the introductory film at the U.S. Marine Corps Museum in Quantico, Virginia.
Mr. Bearss has also authored hundreds of articles on the Civil War for state historical journals and other Civil War publications such as Blue & Gray magazine. He is also the author of a number of books including the definitive study (in three volumes) on the Vicksburg Campaign.  His latest book, on the Petersburg Campaign, is due to be released this summer.
This event is open to the public and we encourage them to attend. The cost is $10.00 per person and the proceeds are going to help build a monument to Tennessee soldiers at the Battle of Richmond, Kentucky.
Seating is limited and as this may be the only time Mr. Bearss can speak to people in Clarksville, the event will probably sell out.